Joining the IE University community means receiving a lifetime of support. IE University offers you endless help and assistance throughout your academic and professional life, and beyond.
3
min read
As the professional market becomes more competitive, IE University continues to support our alumni and ensure they stay ahead of the curve. Graduating from one of our prestigious programs is not the end of your journey with IE University, but will open the door to a variety of IE alumni resources and a lifelong support network.
At IE University, we pride ourselves on our commitment to the success of our students and alumni. With over 66,000 graduates and a highly experienced faculty offering support for IE alumni, graduates transition seamlessly to their future careers. Business Insider ranks IE University in the top ten European universities of employable graduates, which can be accredited to the resources provided.
Through IE's Talent & Careers team, Career Portal, Alumni Directory, Alumni Plus Speaker Series and more, IE University promotes lifelong learning and serves as your personal power source with just one click.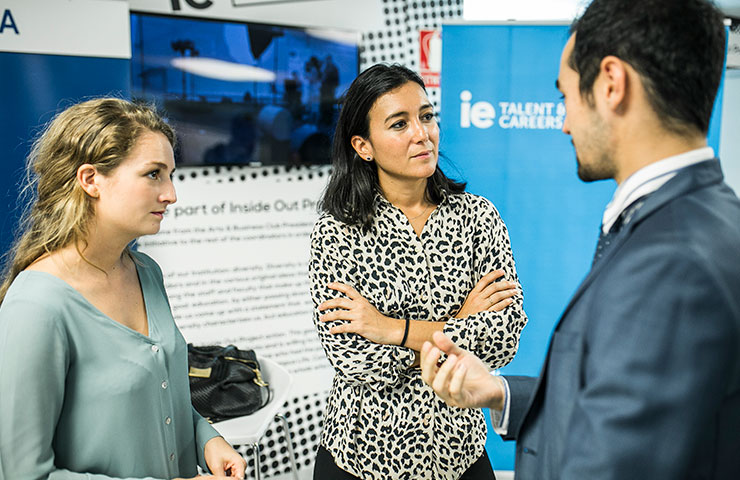 IE Talent & Careers
Offering both students and alumni up-to-date industry insights, IE Talent & Careers provides impactful career advising, learning resources, and development tools to foster success in the world of work. For example, our Alumni Directory helps you connect with over 66,000 alumni from 165 nationalities. Additionally, it allows you to receive communications from IE Alumni Relations, ensuring that you never miss an event or opportunity no matter where you are located. What's more, with over 80 professional clubs worldwide, IE Alumni can help you continue to follow your passion.
Besides networking and connection opportunities, alumni are granted lifetime access to both the IE Career Portal and peer-to-peer mentoring platform. The Career Portal posts more than 7,000 positions annually, providing alumni with the inside scoop on available opportunities. With IE's peer-to-peer mentoring platform, alumni can receive extensive career advice from other successful alumni or volunteer to mentor members of the IE Community.
IE Foundation provides further support by sponsoring your Alumni Plus membership for the first two years upon graduation. Alumni Plus goes one step further with webinars, workshops and one-on-one advising sessions. You can also continue to develop professionally by joining the Career Booster for unlimited coaching services and access to an Executive Talent Network. Graduates receive a lifetime subscription to further their studies with certified online classes, access to IE Library's online publications, and the opportunity to enroll in a master's or executive education program at an exclusive alumni rate.
Lifelong learning
At IE University, we recognize that you are unique and have your own educational and professional path. To that end, we have created cutting-edge programs to foster your ongoing professional growth. If you're considering a career move or would like to further your professional development in your current role, IE University is behind you for each and every step. Our networking sessions, led by leading professionals and members of our global alumni network, offer insights on the working world and shed light on the future of your sector. Our alumni are encouraged to enhance their learning with the Lifelong Learning Booster—the opportunity to study one Executive Education short program or one High Impact Online Program.
We are alumni
The Global Alumni Relations Team believes that great people mean great opportunities, and strive to connect you with fellow alumni. Alumni Stories provide you with insights from your fellow alumni and keep you updated on the impact your peers continue to make after graduating. The alumni blog includes articles about alumni, Madrid, current IE events while encouraging knowledge sharing. The alumni magazine, Ideas Magazine, serves as a platform of lifelong learning and networking. Additionally, lifetime access to your alumni email will keep you in the know about events, campus happenings, success stories and volunteer opportunities. Stay up-to-date within your region by subscribing to your local WhatsApp group for information from our regional offices, and be sure to follow us on social media to stay connected.
We are IE
IE for Life is just that—our promise to accompany you for life. As IE alumni, you form part of the extensive IE Community as you continue to drive innovation within your city, organization and across the globe. Tap into the IE alumni resources offered by our Talent & Careers team, Alumni Directory and Career Portal. Your journey doesn't end on graduation: enhance your professional path with our alumni benefits and discover your future.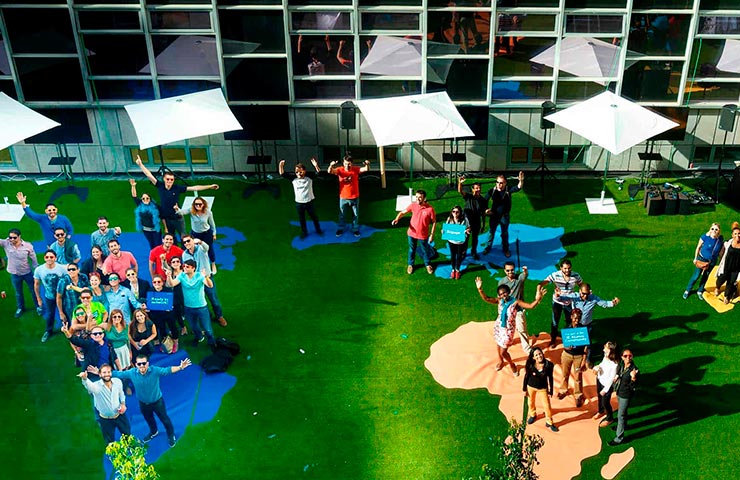 As an IE University alumni, you will always be part of our global network of lifelong learners and innovative professionals.
Take advantage of all that the IE University community has to offer and give back to help others on their journeys. You are IE.