Russia's invasion of Ukraine has affected many aspects of the global economy – and much discussion has, rightly so, focused on the geopolitical consequences of the conflict. Yet, there is another angle that demands our attention and that is the ensuing IP warfare.
In early March, the United States Patent and Trademark Office and European Union Intellectual Property Office halted work with their Russian counterpart, Rospatent Russia IP Office – and the response from Russia was to issue a decree legalizing, within its territory, the unauthorized use of patents and other related IP rights owned by corporations from "unfriendly" countries. The list of unfriendly countries is long and includes all of those that have issued sanctions or taken action against any Russian entity or individual, for example the US, UK, Canada, Australia, Japan, South Korea, the European Union nations, and Ukraine, among others.
This decree includes an amendment regarding the amount of compensation paid to the patent owner when making use of an invention, utility model, or industrial design without consent, as well as the procedure for this payment.
"In relation to patent holders associated with foreign states who commit unfriendly actions against Russian legal entities and individuals (…), the amount of compensation is 0 percent of the actual proceeds of a person who has exercised the right to use an invention, utility model or industrial design without the consent of the patent owner, from the production and sale of goods, performance of work and provision of services for the production, performance and provision of which the relevant invention, utility model or industrial model."
What this means in practice is that any individual or business based in Russia can use foreign patents without permission from the owner – and they can do so at a 0% royalty rate (i.e., for free) – and without paying damages for infringement. Thus, any individual or business that had obtained protection for its patent or trademark in the Russian Federation won't be able to enforce such rights if they are based out of what is deemed an unfriendly country. The Russian Ministry of Economic Development is also considering the removal of protection for IP assets beyond patents, such as trademarks and copyrights, in order to mitigate the impact of sanctions on supply chains and the availability of goods in Russia.
Who have been the first casualties of this IP warfare?
Since February 24, businesses have been pulling out of the Russian Federation, with global companies such as McDonald's, Inditex, Nike, Renault, and Ikea halting operations in Russia. But Russia has been quick to retaliate. By mid-March, a court in the Russian Federation ruled that the copyright related to the popular British cartoon Peppa Pig – which happens to be a favorite of Prime Minister Boris Johnson – could be used by a Russian business without consent or having to pay a fair price or royalty for its use. Back in September 2021, Entertainment One UK Ltd., the owner of Peppa Pig's IP rights, had sued a Russian business for copyright infringement (just one of the many cases of Peppa Pig's infringement claims filed in Russia in fact) but this new Russian ruling has since dismissed the Entertainment One's claims. Some specialized journalists have speculated that Peppa Pig has been one of the first victims of this IP warfare as a way to get back at Johnson.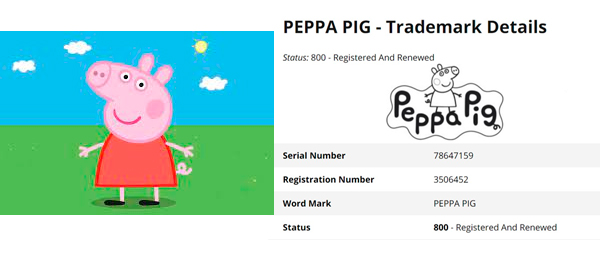 Peppa Pig's registered trademark.
According to The Wall Street Journal, by mid-March "Russian prosecutors have issued warnings to Western companies in Russia, including Coca-Cola, McDonald's and IBM, threatening to arrest corporate leaders who criticize the government or to seize their assets, including trademarks, if they withdraw from the country." The Russian rationale behind this move is that nationalization of these assets would mitigate the effect of job losses and would allow Russian entrepreneurs to keep producing locally.
But political analysts point out that nationalization of foreign assets would only cause more havoc for Russia in the long run. Besides the collapse of its economic power, partly due to international sanctions, Russia has also undermined its soft power, its ability to exert influence, attract and persuade international partners, whether in business or diplomacy. A report recently published by consultancy Brand Finance details how the public in most countries around the world blame Russia for the war, with the exception of China. Russia's reputation drops 19% compared with 2021, while Ukraine's familiarity goes up by 44%.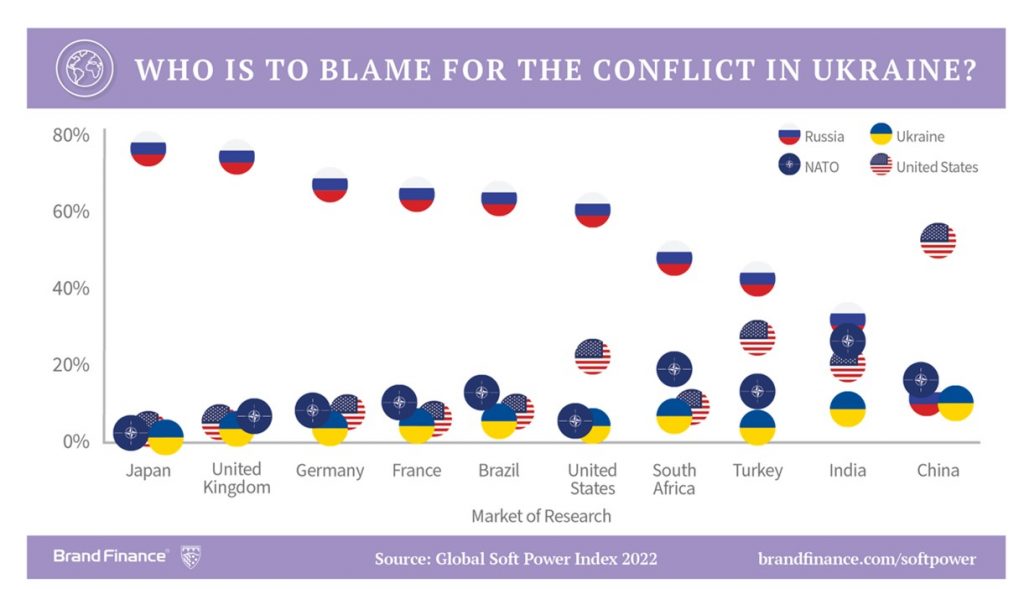 Who is to blame for the conflict in Ukraine?
Source: Brand Finance
The White House has similarly warned that Russia's nationalization of American and foreign assets would only inflict more economic pain on Russia. Jen Psaki, White House Press Secretary, mentioned in a series of tweets, that such lawless decisions will create a long-lasting distrust in Russia as a place to do business.
Only one day after Jen Psaki's statements, a trademark application for the brand name "Uncle Vanya's" was filed on March 12. Its logo closely resembles McDonald's Golden Arches, with the same color combination but rotated 90 degrees to the right. According to The Washington Post, the name comes from the 19th-century play "Uncle Vanya" by Anton Chekhov and the symbol represents the letter B in the Cyrillic alphabet, which corresponds to the V of Vanya.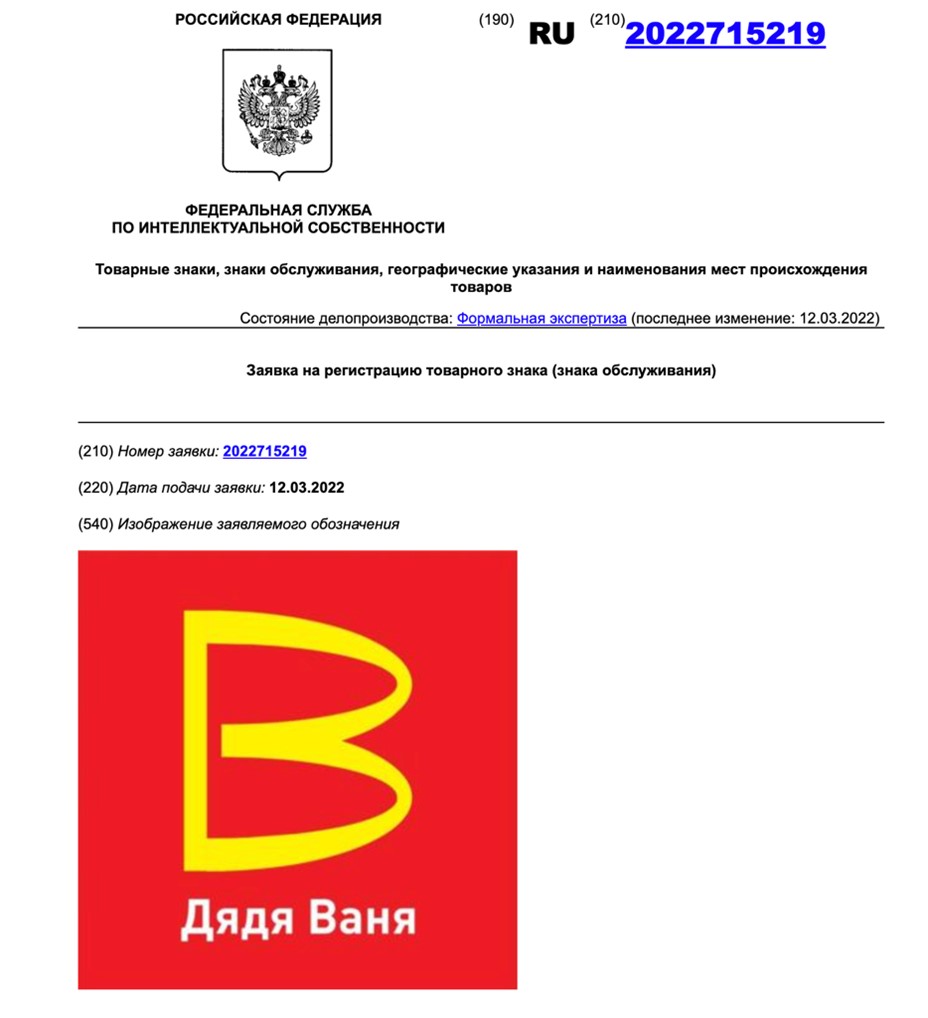 Application for Uncle Vanya's service mark
Source: FIPS (Federal Institute of Industrial Property, Rospatent)
Brand Finance estimates the value of the McDonald's global brand at $39.72 billion, some 17.4% of its enterprise value. Besides the loss of revenues in Russia (roughly, 9% of total revenues) and, given the fact that McDonald's had committed to keep paying the wages of its workers and the rent for the stores, the global chain estimates that the closures in Russia will cost around $50m a month. This is likely to have a significant impact on brand and business value, and even more so if its trademark protection is lost in the Russian Federation. But, the trademark squatting has only just begun, and more recent victims include Dr. Pepper and Skittles.
 A disputed but oft-used war tactic
Russia is not the first government to lift protection on IP assets in this manner. In fact, during WWI and WWII, the United States of America not only held enemy aliens in internment camps but the government also seized their private property and that of corporations originating in countries considered "enemies." Through its "Alien Property Custodian" (APC), an agency administering and controlling foreign property, the U.S. government confiscated Aspirin, Yamanaka & Co., and other assets belonging to Italian, German, and Japanese nationals. Seized assets included horses, rugs, a chocolate mill, a pencil manufacturing company, and a brewery.
All these assets were under the control of the APC in order to prevent them from benefiting the enemy. After the war ended in 1918, the assets under the control of the APC were nationalized or sold to American citizens. That's how Bayer lost its assets in America. In an auction, its trademarks and factory were sold to Sterling Products, Inc. for $5.3m. However, Sterling lacked the German company's know-how and so Sterling and Bayer reached an agreement. Bayer would provide technical assistance to Sterling and would share in Sterling's profits coming from the Americas, Australia, South Africa, and Great Britain for most Bayer drugs. In this way, Bayer Germany was able to make up for some of the losses incurred due to the reparation provisions under the 1919 Treaty of Versailles.
The Treaty of Versailles is yet another example of how states treat foreign property that is deemed to belong to an enemy in wartime. Under the aforementioned Treaty, Bayer gave up the Aspirin and Heroin trademarks to England, France, US, and Russia, and committed to providing a quarter of its aspirin and heroin production to these countries. The exact details of how these reparations were estimated are unknown, but this is an example of how costly a war can be for a private company based in a non-friendly country.
Many of these actions were later criticized as unjustified and indiscriminate. Some lawsuits were brought against APC later on, but all of them were lost.
During World War II, similar policies on internment and confiscation of enemies' assets resulted in more than 100,000 Japanese-Americans in camps and millions in seized assets. In 1941, the assets of Sterling were seized by the US government because of its agreement with I.G. Farben (Bayer Germany), which was deemed as a benefit to the Nazi regime. This seizure was fought by Sterling and after several years, Bayer AG bought back the Sterling business in 1994 for US$1bn and was able to recover the Bayer trademark rights in America for its blockbuster drug. The full cycle of this took three-quarters of a century.
There is no clear winner in IP warfare
Taking a moral stand often comes at a price. Western corporations that have discontinued their activity in Russia will suffer losses not only in revenue but also in the value of their industrial property within the territory. In the current scenario, they have limited options to protect their patents and trademarks in Russia. On the other hand, and in case of nationalization, the Russian awardees of the patent rights, as was in the case of Sterling during WWI, would also need engineering knowledge on how to exploit said rights, without which, they will not be able to optimize its value. Russia too will obviously suffer economic and reputational losses. Ultimately, restoring Russia's reputation as a place to do business will require a major diplomatic effort that could span decades, even if handled with the upmost care. In the meanwhile, everyone loses.
© IE Insights.