In 1998, Sara Blakely was 25 years old, living in Florida, and selling fax machines for a living. Getting ready to go to a party, she noticed that her white pants revealed her panty lines quite visibly. It's a problem many women can understand. For a quick fix, Sara grabbed a pair of pantyhose – a staple of her workday attire (in fact, they were mandated by her employer) – to wear under her pants. They had a control top that would do the job of concealing her panty lines, but first she cut off the feet of the stockings. For a little while, Sara managed to achieve the perfect "look," but as the hours passed, the bottom of the pantyhose rolled up, became visible themselves under her pants, not to mention uncomfortable. When she got home from the party, Sara knew she was on to something and set about finding a way to keep the cut-off pantyhose from rolling up.
Armed with $5,000 in savings and a simple, well-articulated idea, Sara Blakely set out to find a partner to make her line-smoothing undergarment. She was rejected countless times. No one believed in her idea, there were no large investors backing the project, and it didn't help that she wasn't part of the start-up circuit. Eventually, she found an executive who, thanks to the advice of his daughters, agreed to produce a batch of what is now known as Spanx, a brand name that has since become so well known that it is synonymous with the product. With a rather simple solution, Sara addressed a problem shared by many women.
The benefits ladder ("laddering") is a marketing technique used to translate the functional characteristics of a product into a benefit and value for the customer. The higher a product climbs up the benefits ladder, the stronger its positioning and more difficult it is for competitors to copy. In the case of Spanx, the first step of the ladder is a footless and smoothing design that disguises the marks of underwear. The benefit of this design is that it makes clothes look better, which in turn creates value when the wearer feels more comfortable, attractive, and confident.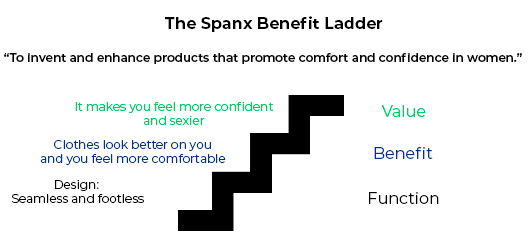 Source: Developed by author based on several interviews with Sara Blakely
Next, Sara worked on enhancing the Spanx prototype and, although she knew nothing about patents, she studied the subject in depth to write her first patent application, which was granted in 2001.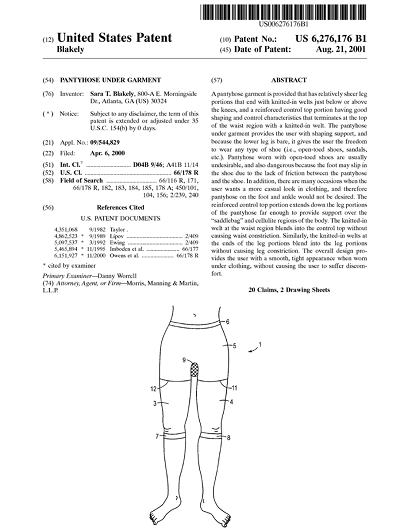 Pantyhose Undergarment Patent
Source: USPTO
What all great brands have in common is that they are founded on an idea that is not only relevant and new, but distinct. Various brand elements help build a distinctive identity, for example: the name, logo, colors, packaging, taglines, slogans, and tone. When these elements are unique, memorable, and applied consistently, they help improve recognition amongst consumers, trigger the right associations, and can positively impact business growth.
Sara originally came up with the name Spanks, a neologism, and later stylized it as Spanx. The name was tongue-in-cheek, easy to remember, and also easy to trademark. She designed the packaging to stand out from the other lingerie on the shelf by opting for a bold cherry red in contrast to the typical grey, white, and beige coloring used by competitors. Instead of photographs, she used cartoons and illustrations. The first was Sunny, a tall, slim blonde young girl who resembled Sara and became a mascot for the brand. In an interview with Inc. Magazine in 2012, Sara explained: "I have no money to advertise. When I get my chance for this product to be on the shelf, it's gotta scream, "I'm new, I'm different, check me out."

Spanx's Packaging
Source: Spanx.com
When it came time to look for distribution channels, Sara knocked on many doors with no success. Finally, a Neiman Marcus "buyer" agreed to a 10-minute personal meeting, during which Sara brought her (did it help that the buyer was a woman?) to the ladies' room where Sara modeled the difference of Spanx under her white pants. The product began selling in Neiman Marcus stores in 1999 and the other large American retailers soon followed. The success was immediate. Research shows that the quality of products and services is the most important driver of reputation for a company, and the case of Spanx is a testimony to this.
It is not surprising that Spanx counted loyal fans from all walks of life. After all, the product solved a small, yet widely shared problem. When Oprah shared her personal (and negative) opinion of modern lingerie on air in 2000, Sara took advantage of the opening and sent her several Spanx products. Once again, the undergarment spoke for itself and Oprah included Spanx on her "Favorite Things" list and brought Sara on the show, accelerating the brand's growth by putting it in front of an ideal audience.
Perhaps it's because Sara did not start out as what one would consider a traditional entrepreneur – she was after all, simply solving a problem that she herself experienced as a woman – and perhaps it's because she was accustomed, at first, to having her idea not be taken seriously, but in 2003, she made a risky move by taking time out from Spanx to participate on a reality TV show, the Rebel Billionaire hosted by Sir Richard Branson. However, at this point in her journey, Sara was already a successful businesswoman and did not need additional backing. While she was exposing herself (for the good and the bad) during the three months of the TV show, taking risks is part of any growth path. Sara was able to use her time on the show to her advantage, forging a strong connection with Branson who became her mentor and supporter.
Most recently, Blackstone announced at the end of last year that it had completed a majority investment in Spanx at a $1.2B valuation, enticing "iconic female entrepreneurs" such as Oprah Winfrey, actress Reese Witherspoon, and Bumble founder Whitney Wolfe Herd as new investors in the firm. This acquisition, and Spanx's commitment to an all-female board, contribute to making women more visible in the business world, recognize their contribution, and create opportunity and inspiration for other women and girls to choose the entrepreneurship path. 
Taken as a whole. Sara Blakely's trajectory to success may seem intimidating, but it's important to remember that her idea and her product came from small beginnings. And while her product and her path is unique, the Spanx case provides useful lessons for any entrepreneur. For example, and in Sara's own words:
A simple and well-executed idea with a clearly articulated benefit is key: "Who would have known that getting rid of the panty line was the road to becoming a billionaire."
Lack of expertise is not necessarily a disadvantage. Instead, it can help you find new ways of doing: "Don't be intimidated by what you don't know. That can be your greatest strength and ensure that you do things differently from everyone else."
Don't give up after a setback or rejection. Persistence will take you far: "In business, you're going to hear the word 'no' a lot. The importance of trusting yourself and your own rear end is what's going to keep you going. Recognize that failure or the word 'no' is not the end."
Pay attention to the little things, and take small steps taken with courage, confidence, and consistency: "Courage is like a muscle. You must exercise. Do things that scare you. All the time."
Although we may be taking small steps and our achievements may look like a drop in the ocean, we must not lose sight of the fact that, as Malcolm Gladwell explained in his book The Tipping Point, "small things can make a big difference" and that our seemingly small enhancements or innovations can change the lives of many people, and incrementally, they can change the world.
Sara is now focused on her Foundation with the purpose of "elevating women entrepreneurs." In the wake of the pandemic, and with the objective of contributing to economic recovery with a special focus on women-owned businesses, the Sara Blakely Foundation has donated $5million to female entrepreneurs and partnered with GlobalGiving to launch "The Red Backpack Fund," which donated $5,000 to each beneficiary. It's the same amount that Sara started out with in 1998 when she created Spanx.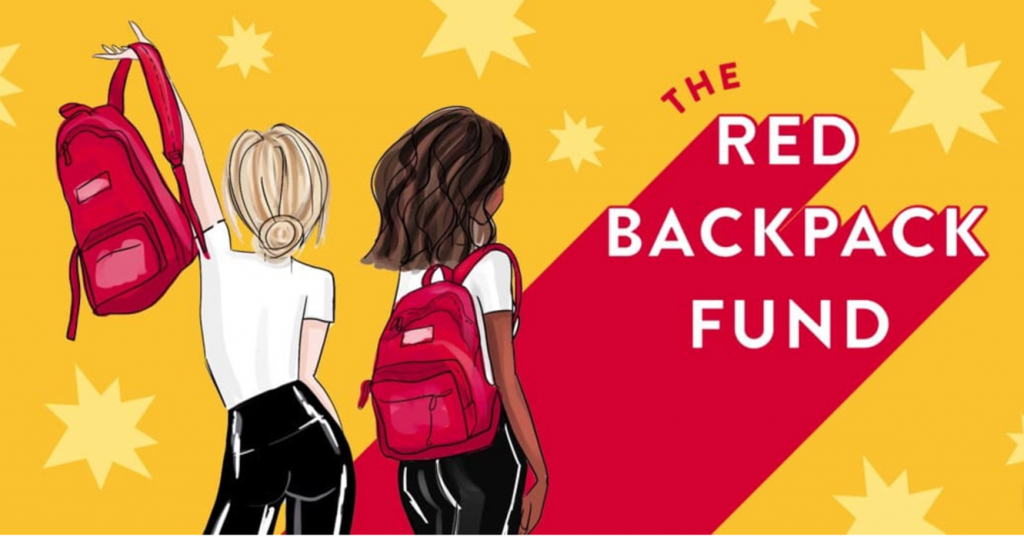 The Red Backpack Fund
Source: Spanxfoundation.com
© IE Insights.