At IE Business School, we believe in shaping a generation of purpose-driven business professionals. We encourage students to discover their strengths and how they can use them to make an impact in the world, especially as having a purpose is a key element to building the Next Best You.
4
min read
Every year, this transformation starts before their studies even begin. During orientation week, IE Business School master's students take part in a community project.
Our first community project initiative took place in 2020 with our Master in Management students building a sensory garden at an old-age home in Madrid.  As Paula Robles, Director of Program Experience Innovation at IE Business School explains "The initial pilot project was a massive success."
Students got a lot out of the experience and we have since decided to incorporate all our MBA and Master students.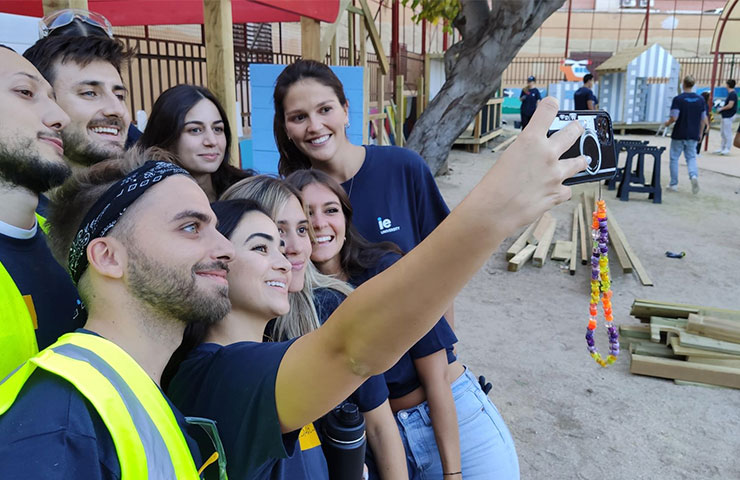 This year, the program was extended to students pursuing the Master in Market Research and Consumer Behavior, the Master in Visual & Digital Media, the Master in Digital Marketing, the Master in Corporate and Marketing Communication, the Master in Digital Business & Innovation, the Master in Customer Experience and Innovation, the Master in Talent Development & Human Resources Program and the Master in Finance.
Remodeling a public school playground in Madrid
From September 27-29, 2022, students from these programs worked on remodeling the playground at Colegio Público Santiago Ramón y Cajal, Fuenlabrada. Based in the outskirts of Madrid, this public primary school was selected for the project as they needed a playground but couldn't afford to build their own.
As Desiré López, program experience innovation coordinator at IE Business School, explained: "We look for places that are in need of a bit of happiness."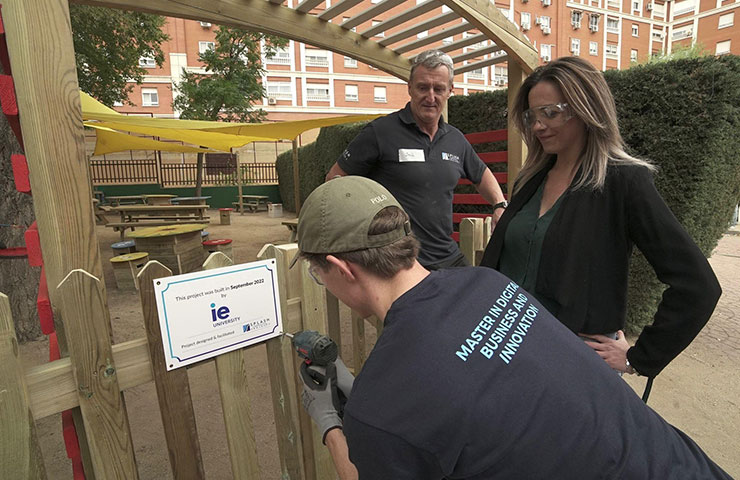 Over the course of three days, students set out to build a playground that resembled a mini-city, complete with a hospital, school, firetruck, hotel and shops.
In collaboration with Splash Projects, who worked on the playground design and project coordination, students were given the materials, tools, instructions and guidance to complete the project from start to finish.
Most students had never been involved in any form of construction before. And while admittedly intimidated at first, they slowly gained confidence in their construction skills.
Throughout the project, their motivation and confidence in themselves grew. By the end, students felt like they'd done something good as they had physically built a playground with their hands and got to see the results. –Desiré López, Program Experience Innovation Coordinator at IE Business School
This project helps show students the tangible effects of getting out of their comfort zones and doing something hands-on for their community. Each project leaves a lasting legacy and makes a massive difference in the lives of those involved.
Maricarmen Miranda, a Master in Customer Experience and Innovation student joining IE Business School from Ecuador, was involved in the project and said that it was a "great way to think as a group and as a community to help contribute to something good."
Helping students find their purpose and make a difference
The project serves as both a team-building experience for the incoming students, as well as a way to show students the importance of working with a purpose. The initiative helps set the tone for the year ahead and is just one of many experiences where students learn to understand that business needs to be carried out responsibly and with respect to the environment, society and the well-being of others.
It's important to participate in projects like this as it helps us realize that there are other people out there. We're all part of the same community, so it's important to contribute and play an active part in our society. –Maricarmen Miranda, Master in Customer Experience and Innovation student at IE Business School
By stepping out of their comfort zone, students are able to see what they're actually capable of.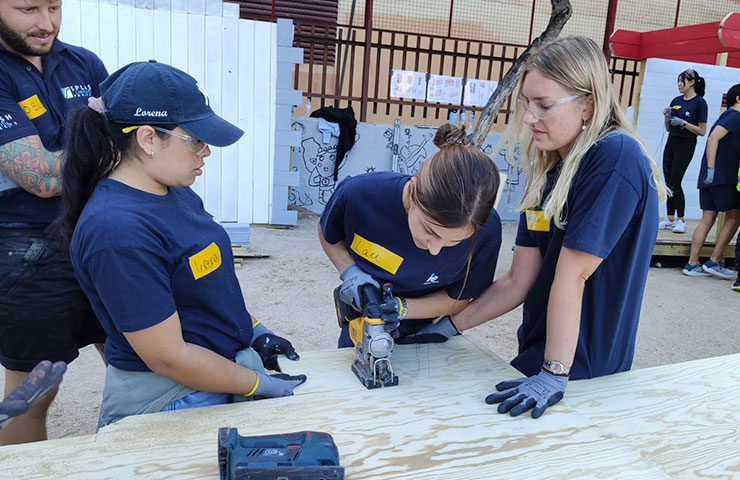 As Elena Ardila, a Master in Customer Experience and Innovation student said: "This project really opened my mind to what I'm capable of. And it helps open doors to new projects and activities."
If you're already in a place of comfort, like so many of us at IE Business School, then why wouldn't you want to give back to the community? –Elena Ardila, Master in Customer Experience and Innovation student at IE Business School
Students not only get the satisfaction of helping others, but also in pushing their own boundaries and achieving something they never thought they would. For students participating in next year's projects, Elena and Maricarmen recommend coming with an open mind and positive attitude.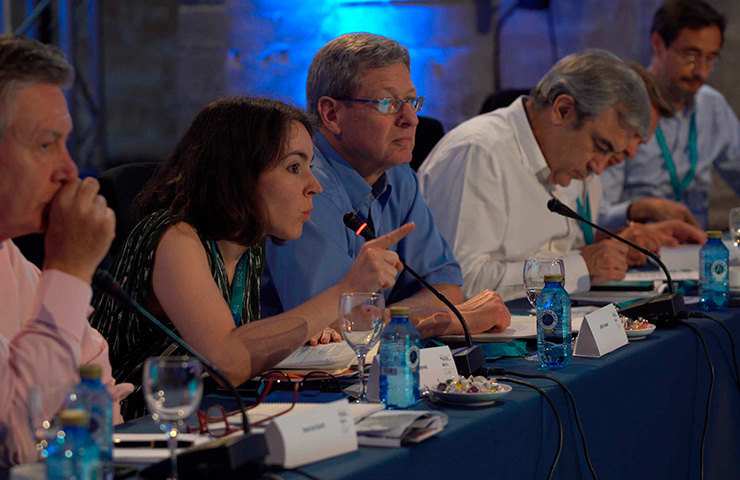 Although it might seem scary for new students at first, the experience and what they achieve will end up surprising them.
Through hands-on, interactive social projects, our students get to see firsthand how their actions can make a real impact on the community around them.