Kick-start your journey to excellence with conferences, master classes and informative sessions. Whether you attend virtually or in person, IE University events will be sure to expand your horizons.
3
min read
At IE University, we're big believers in learning beyond the classroom. While earning that master's degree may seem like the number-one goal of your academic journey, attending informative sessions and conferences will give you added insights as well as an interesting edge over the competition.
We organize approximately 1,500 events per year, and many of them are hosted by sector-leading experts from across the globe. By listening to these influential speakers, you're likely to broaden your real-world view of important industry sectors. What's more, our events offer unique opportunities to engage with experts and thought leaders during immersive, post-speech sessions.
And there's certainly more to IE University events than boosting your sector-specific knowledge. These events are a hub for ambitious students and professionals looking to connect with like-minded peers and expand their international network. Who knows, one of our events might even take you one step closer to a career-boosting opportunity.
So, exactly what kind of events are on offer?
Virtual sessions
While COVID-19 has obliged us to host more online events than usual, we have always believed that virtual sessions are an accessible option for everyone, irrespective of their location. Whether you're living in Madrid or studying remotely, there are heaps of insightful events with renowned speakers that are open to you.
For example, we host virtual "Meet the Academic Director" events for master's students to get to know their peers and connect with their professors before they start their program. Similarly, we organize informational sessions for prospective students to familiarize themselves with a program's objectives, structure, content and methodology. During these sessions, attendees are also given tips and tricks on how to make their application stand out during the admissions process.
From interactive panels with alumni, to career guidance events, to conferences and master classes, the sky truly is the limit.
Annual events
While one-off events remain popular, there are also a number of annual events and traditions in the calendar that are not to be missed.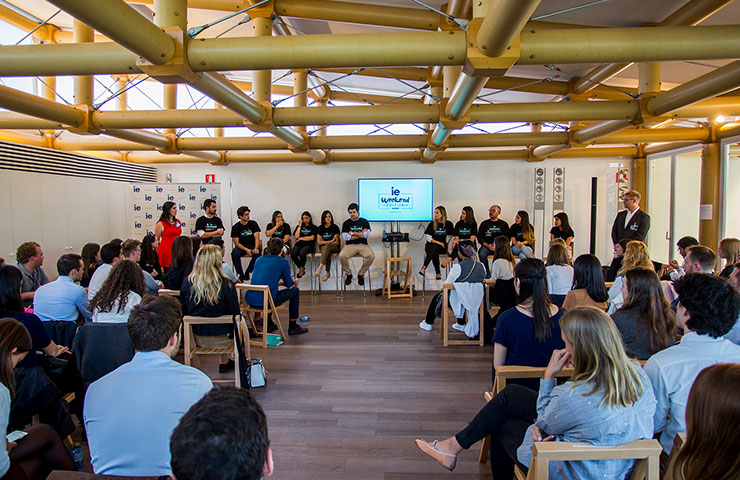 These range from community get-togethers and celebrations to student-led conferences and forums.
TEDxIEMadrid is one of the most iconic. Organized by students and alumni of varying backgrounds, this event brings together leading experts and motivational speakers to discuss pertinent topics including the future of technology, digital revolution and humanity. Not only does behind-the-scenes involvement or presenting make for a fantastic addition to any CV, but it also provides students with game-changing hands-on experience for their future endeavors.
Would you like to get inspired by ambitious change-makers? The IE Leap Conference is an annual, student-led event that aims to tell the stories behind influential speakers' breakthrough moments. Each year follows a different theme, and participants are invited to watch speeches and take part in workshops that encourage them to think outside of the box.
We strongly believe in the power of the humanities, which is why it's one of our core values at IE University.
With this in mind, we organize the IE Humanities Week every spring, to explore and celebrate how the humanities open our minds and broaden our horizons.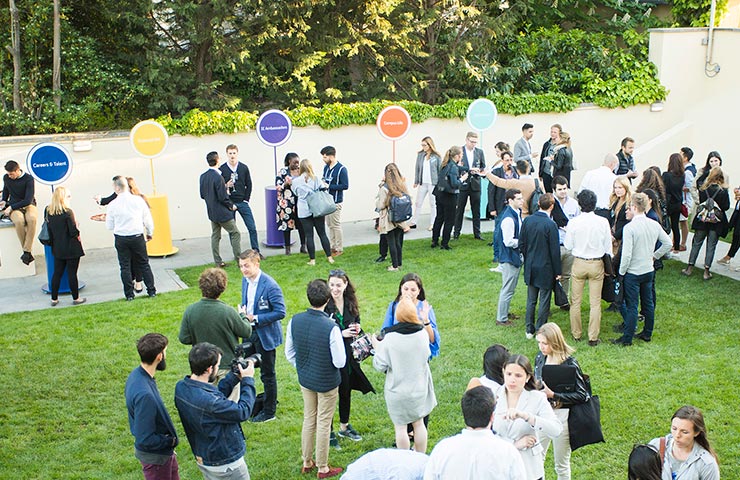 Held on March 8, IE International Women's Day is another milestone event designed to celebrate the incredible women at IE University and beyond. Each year, the IE Women Initiative organizes a wide range of events and activities across campus so that everyone can take part.
To learn more about student-led events and find out how to get involved, check out this post about student clubs.
What's coming up
We are always looking for ways to pique your interest, spark discussion and make your university experience as life enriching as possible. And we're excited to continue hosting events that do just that.
The comprehensive and regularly updated list of all events at IE University can be found here, along with links to register your spot.
Remember to get involved
Regardless of whether you're based in Madrid, Miami or Melbourne, there are always opportunities to get involved in the organizational side of our events or just simply sign up for a conference or two.
But whatever you do, get involved. There's never been a better time to expand your knowledge and make valuable connections. For more information about any of the events mentioned above, visit the official webpage.