Originally from Rosario, Argentina, Simon Beltramino has always been curious about the world around him. His passions growing up were tennis and football, which he still enjoys alongside reading and watching films. But it's his career aspirations that really fuel him. While studying at the Universidad Nacional de Rosario, majoring in Law, Simon realized that he wanted to switch his focus to Finance. Not only did he want to develop an impactful career within the finance sector, but he also longed to work for a global institution where he could meet people from all over the world and learn from their experiences.
And so Simon began the journey to figure out if Finance was what he really wanted to pursue. He started by doing three summer university courses abroad, traveling to Germany and France to study a finance and language course. There, he discovered that he was sure about developing his interest in the sector and started the process of finding the right master's degree in Europe.
Simon chose the Master in Finance at IE Business School because it is renowned as one of the best in Europe due to its academic strength and a world-class faculty of qualified and experienced professors. The fact that the program was taught in English and that he would be joined by classmates from all over the world gave it an edge over the rest, helping Simon make his final decision.
Overall, he describes his experience in both the program and IE Business School in general as a "once-in-a-lifetime experience" that exceeded all his expectations. Meeting a culturally diverse group of people with similar career goals fostered a unique sense of camaraderie. The highly technical curriculum and elective periods gave students a unique opportunity to customize the program according to their career goals. This allowed Simon to specialize in the areas which interest him the most. What's more, the ability to connect with a large, global network of alumni who had already gone through the process was an invaluable source of advice and guidance for current students in the program.
"Meeting people from all over the world with similar career goals fosters a unique sense of camaraderie."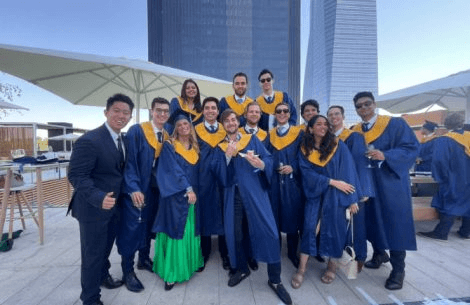 Once he graduated, Simon went on to join the graduate program at Banco Santander, where he works in their Global Markets division. His role is within the bank's Risk Solutions Group as part of the global market sales team serving clients in Continental Europe through offering rates and FX derivatives products.
IE Business School guided him throughout his master's degree, but it was also instrumental in helping him successfully complete the interview process and achieve his long-held goals. Through various career fairs and networking events organized by the school, Simon was able to meet top recruiters from companies all over the world. These opportunities helped to lay the foundations for a thriving career in Finance.
As for his advice to potential students of the Master in Finance, he encourages them to make the most of their time at IE Business School. Not only should they enjoy the many different extracurricular activities that are available, but they should also make a point to meet as many people as they can. This will help them create long-lasting friendships and beneficial relationships that could help them through the next stages of their careers.
Simon remembers his journey through the Master in Finance fondly; he hopes both current and future students will use the resources available to them to build successful professional futures in the sector.