WELCOME TO IE UNIVERSITY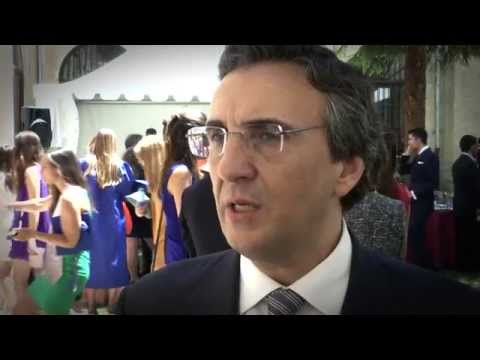 Welcome to IE University, an institution that is committed to a unique higher education model based on the pillars of academic excellence, innovation, entrepreneurial spirit and an unique approach to humanities, the result of which is an eminently practical and experiential learning process for the student. This higher education model hinges on two key defining aspects. The first is the level of internationalization of our community and our focus, whereby students from over 100 countries and professors of 40 nationalities interact in a highly diverse environment. The second is the personalized nature of our programs, which permits students to actively participate in mapping their own education path by selecting, under the guidance of a tutor, specializations, lab projects, workshops, international internships and exchange programs with universities around the world.
A DYNAMIC COMUNITY
The vibrant and dynamic community at our campuses in Segovia and Madrid produces a daily flow of ideas and experiences among talented young people, resulting in constant initiatives and extracurricular activities, and an extensive range of clubs focused in different sports and social academic activities.
We know that the choice of university is a major decision for both the student and his or her parents. That is why we want to offer our help so that you, as parents, can help guide your sons and daughters in making the right choice, one that encompasses their interests and aspirations, and guarantees the best career opportunities in the future. We are here to help you discover everything IE University has to offer.
We hope that you find the information provided in this section useful. For more detailed information or any other query you might have, do not hesitate to contact us at ieuadmissions@ie.edu
STAY INFORMED
IE University publishes a newsletter that includes all news relating to the university. It also includes news of campus life in Segovia and Madrid, students' extracurricular events and activities, projects, internships, and exchanges. Furthermore, it contains news, videos, and interviews showcasing the well-rounded education and environment that are an integral part of our students' personal and academic development. This information is updated every four months.
IE NEWS
The University blog features all academic, cultural, and sporting events taking place; news relating to students and professors; activities organized in conjunction with other universities; and any official activity taking place at IE University.v The blog is constantly updated and news is up to the minute.
WEBLOG NEWS
Ideas Magazine is the IE alumni publication. With a readership of over 55,000 alumni, it features articles on each of the disciplines offered at IE: Business, Law, International Relations, Communications, Organizational Psychology, and Architecture. Ever since it was launched, over 30 years ago, it has included interviews with and testimonials from outstanding leaders, major players, and opinion-makers who have passed through the lecture theaters of IE. It also features news about IE, in general, and all of its departments, as well as news of alumni, events in which they have participated, their appointments, companies, and experiences.

Ideas is published quarterly.
IDEAS MAGAZINE
Parents Weekend
The families and parents of our students are an integral part of our community, and for that reason we want them to have a close connection with IEU. Every year, IEU has the pleasure of hosting the "IE University Parents Weekend", during this event parents of prospect and current students from all around the world meet in both our Segovia Campus and Madrid Campus to have a taste of what is the IEU experience.
RELEVANT INFORMATION FOR PARENTS
The life of an IE University student is a unique experience.

For the 100 plus nationalities that we have on campus, the way they study, how they approach knowledge, how they put it into practice, and the environment in which they do so, undergo a radical transformation at our Segovia and Madrid sites.

The IE University student's timetable includes classes, meetings with fellow students and advisors, meetings with the Careers Advice team, extracurricular activities organized by the Student Office, and events organized by the students themselves through their clubs.

Students intensely live their university experience. They can participate in more than 30 club that coordinate sports, academic, musical, cultural and social activities.

Diversity and the interaction between students of different studies enrich their learning and offers them potent tools for their professional future.

The Student Office also offers students a personalized service regarding matters to do with immigration, health, accommodation, and services in Madrid and Segovia.
STUDENT LIFE
As the capital of Spain, Madrid is home to the government, Parliament, ministries, and related institutions and organizations, as well as the official residence of the King and Queen of Spain and the President of Spain.

With the highest population of any city in Spain, Madrid is an important cultural center, with world-class museums, such as the Museo del Prado, the Museo Nacional Centro de Arte Reina Sofia, the CaixaForum Madrid, and the Thyssen-Bornemisza Museum, which rank amongst the most visited museums in the world.

Madrid is synonymous with Spanish fashion, and plays host to international industry events, such as Cibeles Madrid Fashion Week.

Madrid is also a vibrant city, with plenty to see and do, lots of shopping centers, cinemas, theaters, and restaurants.

The transport network includes a rail network that is fully integrated with the subway, buses, and airport, and its interchanges make transferring from one form of transport to another easy. Madrid's subway system is, in fact, the second most extensive in Western Europe.

The climate in Madrid is dry and annual rainfall is not excessive; the city boasts blue skies worthy of a Velazquez. Summers are hot and winters cold. The average temperature during the cold months (December and January) is 6 degrees Celsius, whilst the average, during the hottest months (July and August), is 25 degrees Celsius.
LIVING IN MADRID
The city of Segovia is in the center of Spain, 25 short minutes from the center of Madrid, by train. Declared a World Heritage City by UNESCO in 1985, the city contains an assortment of buildings of historical significance, of both a civil and religious - Catholic and Jewish - nature. Amongst its numerous landmarks feature: the Aqueduct, the most important feat of civil engineering in the history of Spain; the Alcazar,
the Royal Palace, perched on a rock between the Eresma and Clamores rivers; the San Antonio el Real Monastery; the Santa Maria Cathedral; the city walls, and a significant number of Romanesque churches.

What's more, Segovia is a cultural center and home to various museums, such as the Esteban Vicente Contemporary Art Museum, the Cathedral Museum and the Zuloaga Museum. It is also the site of festivals like the Hay Festival or the Titirimundi International Puppet Festival.

Segovia has the geographical good fortune to be equidistant from historically significant Spanish cities such as Valladolid, Salamanca, Avila, and Toledo, amongst others. Furthermore, its climate makes it ideal for strolling along its streets on a sunny winter's day, as well as taking advantage of the lively atmosphere of the outdoor cafe-bars that can be found all over the city, throughout spring and summer.

The climate in Segovia is dry, with low rainfall mainly in the autumn and spring months, and the occasional rainfall on odd days in the winter months. It has hot summers and cold winters. The average temperature, during the coldest months (December and January) is 4 degrees Celsius, whilst the average during the hottest months (July and August), is 21 degrees Celsius.
LIVING SEGOVIA
At IE University, we want every student with potential to have the opportunity to participate in and enjoy a unique and life-changing university experience; one that allows them to create their own career path based on academic excellence and a wealth of experience.

With this in mind, and through the IE Foundation's Financial Aid Department, IE University offers students two types of assistance: through its scholarship program, on the one hand, and by means of personalized financial aid, on the other.

The Foundation makes funds available to successful students whose achievements strongly match our educational model; particularly those students with outstanding academic results, as well as other excellent qualities resulting from their ability and personal efforts, irrespective of their financial circumstances.

For personalized advice, contact us at financialaid.ieu@ie.edu
FINANCIAL AID
HEALTH
As a rule, in Spain, there are two types of health insurance: the type whereby the insured party is reimbursed once they have paid for medical care, and the type whereby the insurance company meets absolutely all of the costs incurred.

IE University has an agreement with Sanitas, an established medical insurance firm, whereby absolutely all major medical costs are covered. Sanitas allows students to take out a policy from their country of origin, without having to wait until they arrive in Spain.

There are two types of policy available to our students, depending on whether or not they require repatriation (this being a prerequisite in order to apply for a student visa).

IE University's Madrid campus is located in a very central area, in the city's financial district. It is also a very safe residential area with an abundance of private clinics, as well as one of the biggest state hospitals in Madrid, the Princesa Hospital.

Segovia is a large city and has all of the healthcare facilities, private and public, that you would expect. Furthermore, the Segovia campus has its own infirmary, which is open during university opening hours.
SAFETY
Spain is one of the safest countries in the world and, in European terms, enjoys one of the lowest crime rates. Segovia is also one of the safest cities in Spain. IE University's Madrid campus is located in a residential area with a high security rate.

At both the Madrid and Segovia campuses, permanent security measures are in place during opening hours, with CCTV cameras in operation, as well as security staff throughout our sites.
COME AND SEE US AT CAMPUS
We periodically organize events for the parents of prospective students, at our Madrid and Segovia campuses. These cover everything from general information to talks on topics considered to be of interest to parents and include:
Every month, we open up our campuses to provide information about IE University, our educational model, grades, exchanges, internships, financial aid, university life, career prospects, employability, and any other topic of interest to parents and prospective students. Open Days take place at both our Madrid and Segovia campuses and finish with a tour of the campus, taking in all of the facilities. Both parents and prospective students may attend Open Days. These events are a way of prospective students and parents getting to meet and interact with current students and experience IE University first hand.
EVENTS
Once a year we celebrate the Parents' Weekend event, which is open to parents of current students and admitted candidates. During the weekend we offer workshops related to the various degrees so that the attendees can learn about and experience the methodology of IE University. Moreover, there are conferences regarding other interesting topics for the parents, such as leisurely activities that allow the parents to know meet each other and share their experience of IE.
EVENTS
These are classes and/or talks aimed at parents and they look at both current affairs and personal and professional development, and are given by IE University professors.
EVENTS
EVENTS
GET IN TOUCH WITH US
If you so wish, you may visit us at any of our international offices, on any continent, to obtain information, arrange an appointment or attend a planned event.
IE INTERNATIONAL OFFICES
We periodically hold online sessions for parents on Financial Aid (including scholarships and financing) and the Student Office (including accommodation, security, and life on campus), as well as sessions of academic interest, on current affairs, and personal development, given by IE University professors.

What is more, we will be only too happy to hear from you online. To arrange a Skype appointment, please write to us at ieuadmissions@ie.edu
EVENTS
CAMPUS TOUR
If you are unable to attend any of the Events, you are more than welcome to set up an appointment for a personal campus tour. Please send an email to ieuadmissions@ie.edu
NEWS
What do you want for your children, success or happiness?
On December 17th, we celebrated here in the Madrid Campus the workshop "Positive Psychology: What do you want for your children, success or happiness?" presented by Psychology professor Eva Katharina Herber.
During the workshop, parents experienced a practical and participative class of positive psychology, in which they saw that success and happiness are connected. Assuming that each one of us has our own definition of success, I arrive to the conclusion about the importance of each of our strengths, assuring that when we improve our strengths, we will be happier and have more energy. I conclude that we have to look inside ourselves and define our own strengths, as well as our internal resources, since they lead us to success and happiness.
Herber is a psychologist and coach, expert in Applied Positive Psychology. She works with individuals, teams, and companies to increase their well-being and performance. She is a professor at IE University and IE Business School, as well as collaborated with other institutions.
Parents of our students are part of the IE University community, and for that reason we organize events so they can enjoy out campus and meet professors, students, and fellow parents.
This is why in December 2017, the Vacation Cocktail took place, with close to 250 attendees that came from different cities. During the cocktail, Rafael Benjumea, Chairman of the IE University Foundation Advisory Board, and Miguel Costa, Director of Admissions emphasized the importance of parents in the IE community and their connection with our university. During the event, three student members of the IEU Music Club played holiday music with great professionalism.
During the event, members of the IE Unversity Student Government with United Nations Student Associaton held an exhibition "connecting cultures", in which they exhibited works by 21 artists from 21 countries. The exhibition was held with the aim of raising funds to help the refugees.
This year, IE University is organizing the Parents Weekend in May, in which there will be workshops from each degree so that parents can experience a day in IE with our professors and methodologies, as well as conferences and leisure activities. We can't wait to see you there.