WELCOME TO IE UNIVERSITY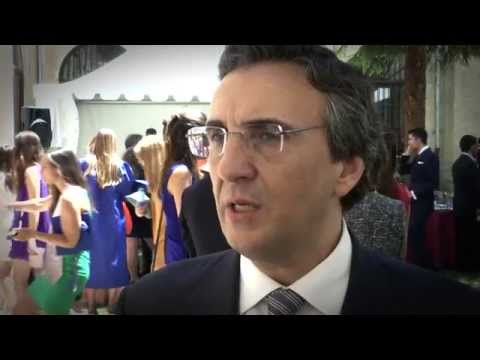 Welcome to IE University, an institution that is committed to a unique higher education model based on the pillars of academic excellence, innovation, entrepreneurism and a unique approach to the humanities. We provide each student with an eminently practical and experiential learning process.
Our unique higher education model hinges on two key aspects. The first is our focus on creating an international community and outlook. Students from over 130 countries and professors of 40 nationalities interact together in a highly diverse environment. The second is the personalized nature of our programs, enabling students to actively participate in mapping their own education path by selecting—under the guidance of a tutor—specializations, lab projects, workshops, international internships and exchange programs with universities around the world.
A DYNAMIC COMMUNITY
The vibrant and dynamic community at our campus fosters a constant flow of ideas and experiences among our talented young people. Together, they create new initiatives and take part in extracurricular activities through our extensive range of clubs.
We know that choosing a university is a major decision for both students and their parents. That's why we want to offer our help so that you, as parents, can help guide your sons and daughters in making the right choice, one that encompasses their interests and aspirations, and guarantees the best career opportunities. We're here to help you discover everything IE University has to offer.
We hope that you find the information provided in this section useful. For more detailed information or for any other query you might have, do not hesitate to contact us at ieuadmissions@ie.edu
STAY INFORMED
IE University publishes a newsletter that covers all our latest news, as well as news of campus life, students' extracurricular activities, projects, internships, and exchanges. It also contains videos and interviews showcasing the comprehensive educational environment that is so integral to our students' personal and academic development.

This information is updated every four months.
NEWSLETTER
The University news section is constantly updated, and features all academic, cultural and sporting events taking place; news relating to students and professors; activities organized in conjunction with other universities; and any other official activity taking place at IE University.
NEWS
Ideas Magazine is the IE alumni publication. With a readership of over 55,000 alumni, it features articles on each of the disciplines offered at IE: Business, Law, International Relations, Communications, Organizational Psychology and Architecture. It was launched over 30 years ago and continues to feature interviews and testimonials from outstanding leaders, major players, and opinion makers who have passed through the lecture halls of IE. It also features general news about IE and its departments, as well as news of alumni, events, appointments, companies and experiences.

Ideas is published quarterly.
IDEAS MAGAZINE
RELEVANT INFORMATION FOR PARENTS
COME AND VISIT US
We periodically organize events for the parents of prospective students. These cover everything from general information to talks on relevant topics, including:
Every month, we open up our campus to provide information about IE University, our educational model, grades, exchanges, internships, financial aid, university life, career prospects, employability and any other topic of interest to parents and prospective students. Both parents and prospective students may attend the Open Days. These events are a way for prospective students and parents to meet and interact with current students, and experience a taste of life at IE University.
JOIN OUR NEXT OPEN DAYS
Once a year we celebrate Parents' Weekend, which is open to parents of current students and admitted candidates. During the weekend we offer workshops related to the various degrees so that attendees can learn more about our teaching methodology. There are also conferences and leisure activities that allow parents to meet each other and share their experience of IE. If you are interested in joining this event please in touch with us at ieuadmissions@ie.edu
These are classes and/or talks aimed at parents and our community. They look at both current affairs and personal and professional development, and are led by IE University professors.
JOIN OUR MASTER CLASSES
GET IN TOUCH WITH US
If you so wish, you may visit us at any of our international offices on any continent to obtain information, arrange an appointment or attend a planned event.
IE INTERNATIONAL OFFICES
We periodically hold online sessions for parents on Financial Aid (including scholarships and financing) and matters relating to the Student Office (including accommodation, security and life on campus), as well as sessions of academic interest, related to current affairs and personal development. These are all led by IE University professors.

If you need any more information, we'd love to hear from you. To arrange a Skype appointment, please write to us at ieuadmissions@ie.edu
ONLINE INFORMATIVE SESSIONS
If you are unable to attend any of our events, you are more than welcome to set up an appointment for a personal campus tour.
MEET & TOUR
IE Insights
Insights is IE University's thought leadership publication for sharing knowledge on management, technology and innovation. We bring fresh ideas from research-based analysis, practitioners and world-leading experts. Our readers are changemakers, innovative leaders and critical thinkers with an insatiable interest in learning about human behavior, the power of technology and the complexity of a rapidly shifting environment. They are relentlessly committed to creating a better future for society.
Parents' Weekend
Our students' families are an integral part of our community, and we want them to have a close connection with IE University. Every year, we have the pleasure of hosting the "IE University Parents' Weekend", where parents of prospective and current students from all around the world meet at our campus to have a taste of the IE University experience.
Do you want to know more about financial aid?
Click here