On 26 August, Leo Messi said goodbye to FC Barcelona by sending them a registered 'burofax'. The club's Chairman Josep María Bartomeu was faced with the daunting task of negotiating with the player and explaining to the fans why the team's star wanted to leave.
However, after days of negotiations, Messi decided to stay for another year and explained that: "I would never take the club I love to court, that's why I'm going to stay." Was this a victory for Bartomeu? Certainly not, if we take into account that he is facing a vote of no confidence and that Messi has heavily criticized his leadership style, hurt by the treatment he has received. The Spanish writer Maruja Torres summed it up beautifully in a tweet: "What is happening with Messi happens everywhere. When the mediocre are in charge, there is no room for the talented. They either stay and fade into insignificance or they leave."
Many managers face the same challenge as Bartomeu when dealing with their star employees. They are team leaders, perform exceptionally well, and are committed beyond expectations. So why do they decide one day that they want to leave the company? This means a loss of talent for the organization and in many cases also suffering for the employee. Messi has confessed that "I haven't been happy here for the last few years."
When an employee is dissatisfied with their organization, they have two alternatives to improve their situation: leave or talk. Although Messi has been silent for a long time, the last defeat in the Champions League was the trigger behind his decision to leave the club and to talk. He had been telling the Chairman for some time that he wanted to leave because he needed new challenges and new experiences. In his own words, "I suffered a lot, I felt awful, I didn't feel like doing anything".
 How do you keep your star employees motivated and satisfied?
Leadership styles are linked to the type of employee. Not all employees are the same, and a successful leader must know how to treat each type of employee. There are two major differentiating factors between employees: the degree of job performance and their commitment to the organization.  The first has to do with performance and the second with motivation and loyalty to the company. We can thus divide employees into four types: the star employee, the opportunistic employee, the employee with potential, and the toxic employee. Each type of employee requires a different leadership style, as we can see in the matrix Four Leadership Styles for Four Types of Employees.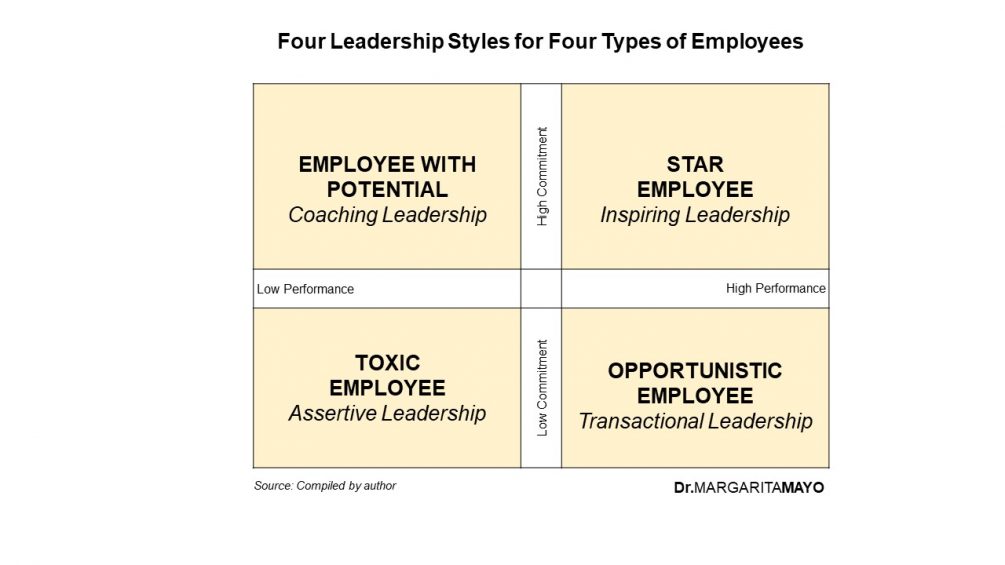 Star Employees. They are highly qualified for the job and their loyalty to the organization is unquestionable. They are committed to the values of the organization and are capable of making sacrifices for the good of the company. They can be given responsibilities and you can rest assured that everything will run like clockwork. They are ambitious and need to achieve constantly. They are motivated by challenges, winning, and continuing to learn. They set an example for others. They are generous with their colleagues, infuse the team with energy and motivation, and share their knowledge. Messi clearly fits this employee profile. His talent is unquestionable, with nobody doubting that he is the best football player at the club. And although his loyalty has recently been questioned, Messi has reaffirmed his "love for this club, which will never change."
What kind of leadership works with star employees? It's not a question of money. Messi has said that he has had opportunities to leave and earn more money every year, but he has not done so out of loyalty to the club. In his words, "this is my home" and his aim was to "continue growing the club's legendary reputation". Although his case is arguable, what is true is that money is not the main driver for a certain number of employees who are looking for an exciting, successful project. Messi's biggest criticism of the club's Chairman is that "there is no project here, there is nothing." He describes Bartomeu's leadership as a troubleshooting strategy, patching things up as he goes along. The satisfaction and productivity of star employees are closely linked to inspirational leadership. An inspirational leader enthuses people with a specific aim that goes beyond the pay check at the end of the month.
Employees with Potential. This is a group of workers who are underperforming but have a positive attitude and potential to improve. They are committed to the organization and are motivated to acquire new knowledge and skills. Their learning attitude leads them to recognize their mistakes and they want to learn from them. They are keen to overcome their shortcomings, build on their strengths, and are willing to learn. The best leadership style with this type of employee is coaching: recognizing their potential and implementing a culture of coaching and training. Leaders who are successful with this type of employee know how to identify the potential within them and implement a career development plan. They can contribute to the success of the team and the company with a growth mindset and appropriate coaching.
Opportunistic Employees. These are individuals who perform well but whose commitment to the company is purely transactional. They are driven by financial compensation. If they find another job outside the company that gives them a better salary and more benefits, they have no hesitation in moving on. There are many examples in football where players leave a team because they are given better financial conditions. In the language of football, you could say that "they don't feel any loyalty to the team's badge." And as many football club chairmen know, the best way to retain this kind of talent is through better pay. The problem is that there may always be another club that makes a better offer.
Toxic Employees. These are profiles whose performance and attitude are negative. They do not comply with the set targets and find it difficult to acknowledge their mistakes. These problematic employees can drain team energy and create a conflictive working environment. They tend to criticize the organization in an unconstructive way and see the success of others as a threat to their own ego. These employees need an assertive leadership style. The leader can offer them the chance to amend their behavior in the best interests of the organization. It is important to set clear objectives and the outcomes associated with achieving them, to monitor their performance, and provide them with honest feedback so that they can move forward. If there is no progress, it is time to consider dismissal.
This employee leadership style matrix is a practical tool for analyzing the fit between your leadership style and each member of your team. Effective leaders adjust their style to the individual characteristics of each of their employees. You can't approach a star employee as though they were an opportunistic employee, an employee with potential, or even worse, as a toxic employee. What is your dominant leadership style? Do you adapt your leadership style to each type of employee? Your situational leadership skills can be improved with training in emotional intelligence and employee appraisal systems.
© IE Insights.