No matter when you choose to go back to school, pursuing your educational goals with IE University will always help you ensure long-lasting career success.
4
min read
Deciding to go back to school is never easy, but in today's uncertain and ever-changing world, it is a crucial step in ensuring your professional advancement. At IE University, we offer our students the latest in teaching innovation, world-class facilities and engaging and enticing extracurricular activities that cater to students at all levels of their professional careers, from young graduates to experienced professionals looking to expand their skill set. Whatever you're looking for to continue your professional and formative journey, we've got you covered.
Programs to suit everyone
At IE University, we'll never ask you to give up on your dreams. Our impressive selection of world-class master's programs, in fields such as Business and Management, Technology and Data, Finance, International Affairs and more, are bound to include a degree that fits your career aspirations. Each program can also be personalized and tailored to each student's particular needs, empowering our students to take charge of their educational journey. With continued guidance from our world-class faculty and a community of innovative minds surrounding you for inspiration and support, we fully encourage you to explore your fields of interest and discover and solidify your passions.
Learn like you've never learned before
For over 20 years, we at IE University have been proud of our world-leading status in terms of innovative learning methodologies. In the current climate, one of the biggest concerns for all students is bridging the gap between virtual learning and in-person learning: finding a way to adapt crucial practical experiences for a digital platform. Through our Liquid Learning model, we accounted for this concern before it even arose, granting all our students access to the same opportunities, teaching, practical activities and overarching IE University experience, regardless of their physical location.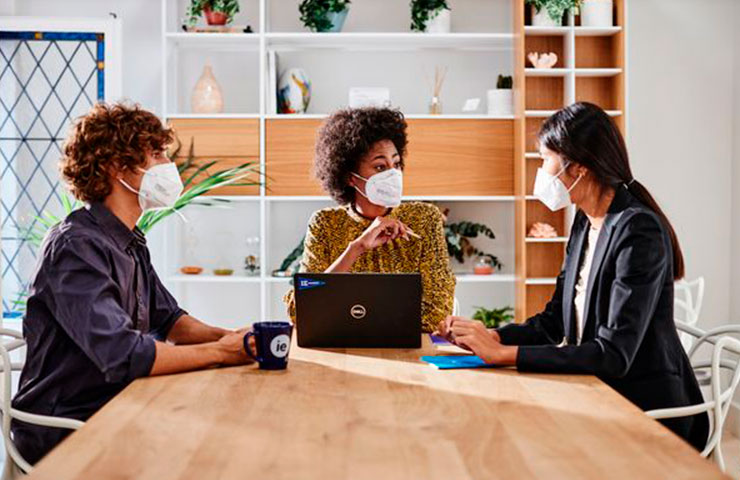 Our Liquid Learning model means that in our classrooms, there's a mix of students attending in person and students attending virtually, visible through in-room screens and participating as fully as the others.
We equip our teaching staff with the most current and useful resources, such as interactive whiteboards, presentation software, videos and more, so that whether you're sitting in your bedroom or your classroom, your mind, attention and curiosity all remain captured and engaged.
Resources for students
IE University students have access to an exhaustive system of services and resources designed to support them in all aspects of their academic, personal and professional lives. These serve to enrich our students' time with us and make it the best possible experience, both inside and outside of the classroom. Some of our most valuable resources for students include the Talent & Careers team, the Student Services office, the Language Studies Center and the library. However, there are many more just waiting to be discovered by you!
Student clubs
Going back to school is a great way to meet new people and explore new hobbies. IE University has around 130 clubs and societies that provide our students with unique opportunities for learning, growth and fun. From clubs related to programs, such as the Healthcare and Pharma Club, to more niche ones like the Improv Club and the Guided Meditation Club, there will definitely be something that fits your needs and interests.
Whether you're looking for something to get your heart rate up, or an activity to calm you down and ease your stress, all these options are at your fingertips. However, if these options don't cover the subject or hobby you're passionate about, IE University will support you in founding a new one and sharing that passion with others.
An exciting university culture—on-campus and off
Our classrooms in Madrid, which are located in the heart of the city's financial district, are innovative and groundbreaking spaces where the latest advances in both technology and learning methodologies combine to create the perfect learning environment for ambitious students. Encompassing cutting-edge resources for students, these specially adapted spaces play an essential role in building an educational experience that homes in on your passion while also providing far-reaching contextual knowledge on the 21st-century professional world.
Outside of the academic benefits, studying in Madrid means you'll be studying in a major European hub, with endless possibilities to discover history, culture and nightlife. With some of the best gastronomy in the world and two major world soccer teams, Madrid provides for all areas of interest, from art to music and beyond. Welcoming, tourist-friendly and host to a vibrant international community, Madrid is a strong contender for the best place to live in Europe. And to study in Madrid is to gain a second home, making lasting connections with interesting people from around the world.
Alumni support services
We want your IE University experience to stay with you for the rest of your life, and not just through your memories. For our 60,000 alumni, hailing from over 165 different nationalities, we aim to serve as an essential support network for the duration of their professional careers. This is why we have developed a detailed alumni support framework, which encompasses our Talent & Careers team, Career Portal, Alumni Directory, Alumni Plus Speaker Series and more. Through these facilities, our alumni don't have to lose access to the guidance, advice and wealth of possibilities that made their time at IE University so special and definitive, and until they achieve them, our students' aspirations are also our aspirations.
IE University is the best option for prospective students and professionals returning to the world of academia. Offering programs designed to optimize your employability and capabilities, world-leading teaching methodologies and an abundance of in-person and virtual extracurricular activities that complete your university experience, the choice is clear. Make our community your community, and join a network of professionals leading the world in change and innovation.
Ready to take the leap to go back to school and benefit from all the perks of being a student? Check out our comprehensive program catalog here.