Anna Magdalena Wieck's journey in the humanities started in grade school. That was the first time she discovered her artistic side, becoming enamored of books, art and the theater. Her love for culture not only defined the rest of her school years, it also shaped her undergraduate career: Anna went on to study art history and German language and literature at the University of Maine.
Later, when she decided to beef up her credentials, she moved all the way to Ann Arbor to join the University of Michigan. She pursued her PhD in the History of Art there, focusing her dissertation on Spanish art during the 1920s and '30s. Her research required Anna to spend ample time in Madrid, marking her entry into the international art scene.
Anna's first job after completing her studies was at the National Gallery of Art in Washington D.C., globally renowned as a hub for culture, education and visual art. She spent three years in a prestigious role within the Department of Photographs, sharpening her research and curating skills working with the most significant images in the nation's history. But soon, Anna felt Madrid calling and was thrilled to start planning her return to Spain.
During the course of her academic and professional life, she has concluded that studying the humanities is a "fascinating and humbling" experience. Anna believes this field of study is essential to understanding society, culture and the full spectrum of human creativity and innovation. "[Humanities] teach us to think critically and inquisitively so we can better understand history, as well as our current moment, as we prepare for the future," she explains. This is the perspective she hopes to share with her students in the novel Bachelor in Humanities program.
Anna has enjoyed her foray back into the classroom, this time on the other side of the lectern. Seeing art in a new light, through her students' eyes, has been the best part of the experience. Her classes are an interesting mix of past and present, helping students gain unexpected lessons from a unique field. She explains: "Art history is necessarily interdisciplinary and it allows us to study physical as well as ephemeral objects and performances while considering, at the same time, matters of politics, economics, sociology, technology and more." As a result, students can expect to refine their cultural understanding while expanding their curiosity and critical-thinking skills.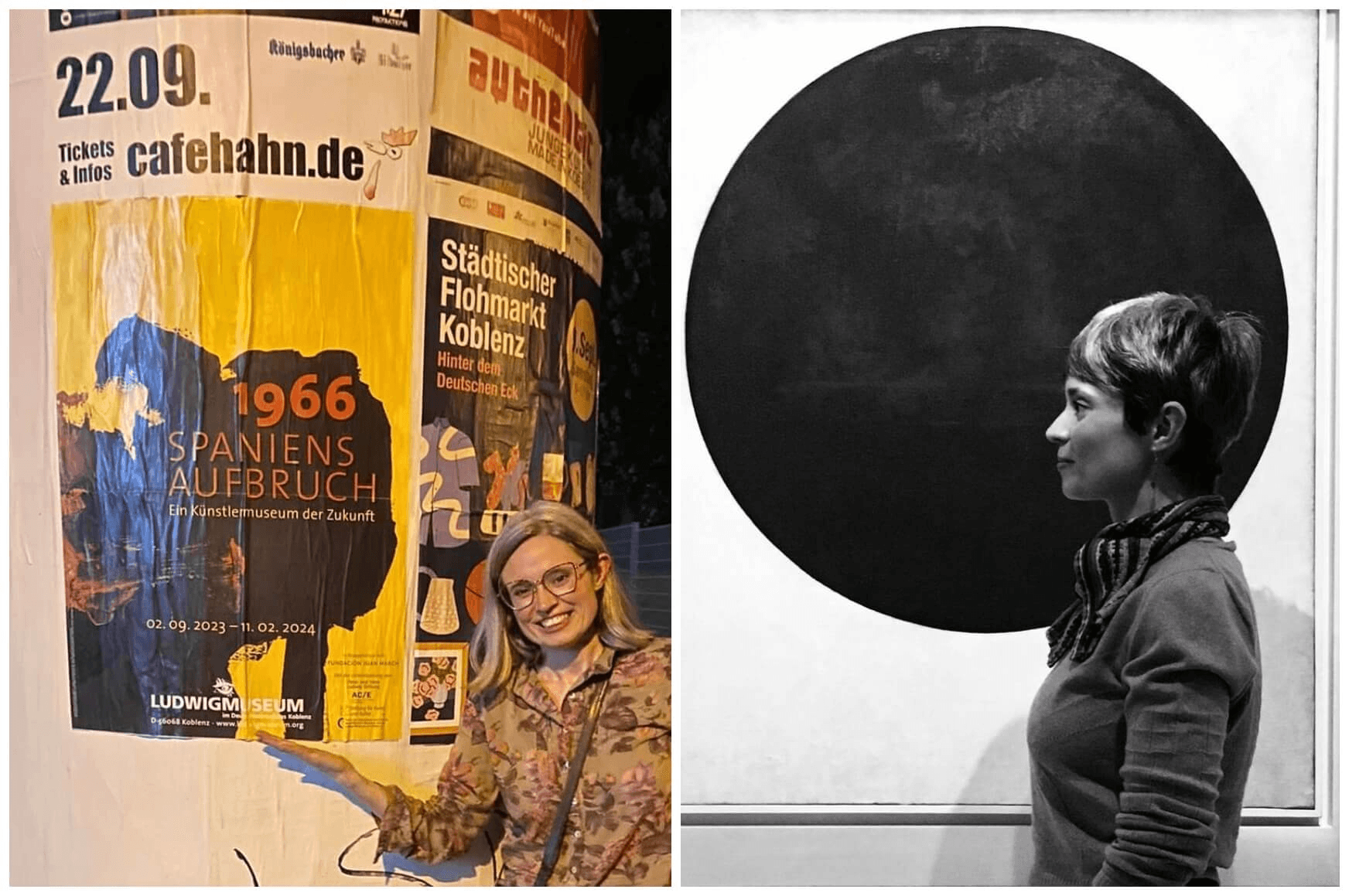 One course she particularly loves teaching is Value: Art & Material Culture. It is offered as part of IE IMPACT, a transversal academic program for all IE University students fostering leadership and positive change. Through it, they explore the full breadth of historic and contemporary collecting practices, which includes the curation, preservation and display of art collections. They also cover the history of museums, debating the post-colonial ramifications of these collections and the repatriation of cultural heritage. Further, the course delves into the contemporary art market, discussing what she calls "tech-world-meets-art-world trends" like AI, NFTs (non-fungible tokens) and more.
"As an art historian, I cannot emphasize enough the importance of field trips and of viewing original works of art and material culture in person," Anna says. Fortunately, IE University's installations are located in two major art and culture hubs: Madrid and Segovia. Students can access a wide selection of "incredible museums and sites" right at their doorstep.
Anna says her favorite art piece is one of Goya's last works, completed in his Bordeaux Sketchbook series between 1824 and 1828. The drawing depicts an elderly man balancing his weight on two canes, his gaze meeting the viewers' and with a caption above it reading Aun aprendo (I am still learning). "There are various interpretations of the work, but it seems to point to a certain resilience, rigor and curiosity we would do well to emulate," states Anna.
Similarly, she hopes her Bachelor in Humanities students will adopt those lessons into their own lives and utilize them to build a successful career. As she asserts, "They'll leave the program with a curious mind, ready to formulate questions and familiar with methods through which to approach answers."