Alongside gaining key knowledge and skills, IE University's career services help students to achieve their goals. We don't just supercharge your career potential, we also point you in the right direction.
4
min read
Embarking on a master's degree is like stopping at a refueling station on your career journey. It's a time to pause, reflect and learn—but that doesn't mean you should forget your destination. At IE University, we make sure that you get access to the best possible career opportunities that complement your education and help you achieve your goals.
Talent & Careers: Your best employment network
From the moment you enroll to years after your graduation, the Talent & Careers department will be your best friend when it comes to your career.
Our careers advice services can be adapted to what suits you, with sector-specific drop-in sessions and individual appointments for a closer look at your aspirations. But it is not all big picture planning—these meetings can also be used for the practical side of careers advising, with guidance on CVs and personal career paths.
Unique professional insight
Gaining professional insight can represent the difference between an application's success or failure. After all, who better to tell you how to gain access to an industry than the sector's leaders themselves?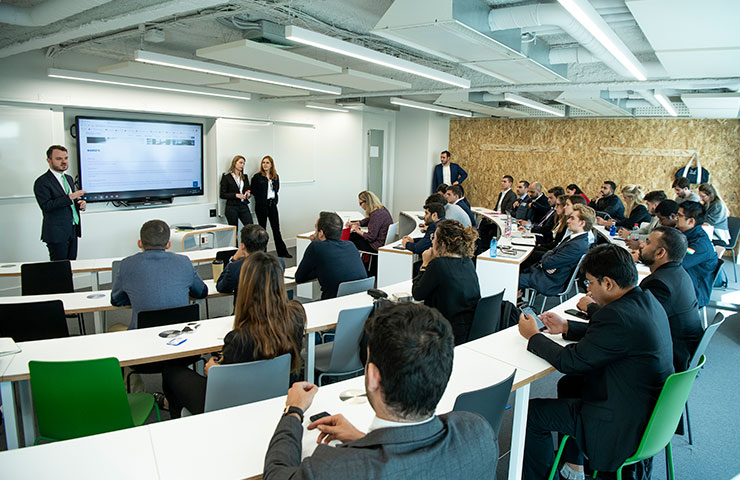 At IE University, we have asked top experts from finance, technology and even the United Nations to offer their advice and knowledge of current trends to our students.
From this, we have been able to compile a series of video interviews called IE Asking the Experts, with speakers exploring topics including applications, desired profiles, pay, key skills and even personal branding. This unique project allows students to better gauge what's in demand in their desired sector and tailor their studies accordingly.
Direct recruitment solutions
We also work hard to build bridges between leading recruiters and our students and alumni. A total of 268 companies visited us in person in 2019, and we are constantly increasing the number of opportunities we offer our students. But this is not a one-way system. Just as we have services for prospective employees, our Recruit at IE University page offers guidance and support for employers looking for their next team members among our base of 65,000 students and alumni from 165 countries.
This service has a wealth of on-campus solutions to fulfill all the needs of our partner employers. Our constant networking events make it easier than ever for the right students and companies to come together—and we even provide on-campus assessment centers and interview facilities. Perhaps the highlight of these incredible year-round networking events is the talent forum, which in the past has brought together a total of 300 recruiting partners and 1,800 students. With deep dives into specific sector opportunities and incredible, door-opening connections, this event has acted as the springboard for many successful careers.
All our incredible on-campus resources are perfectly complemented by our virtual offering. Through our job bank, CV support and virtual recruitment drives, the entire IE University community—including our partner companies—have access to our complete talent pool and opportunities. In fact, our virtual system is so robust that that 2020 talent forum was seamlessly converted to an online format.
Success stories
Your career journey is your own, but many others have walked similar paths before. Innovative change-makers who have passed through our programs have gone on to achieve incredible success in their respective fields.
One such person is Alison Gillot, an alum of the International MBA. Now, she's working as a project manager in the luxury French fashion house, Chanel, which she applied for when she was still in Madrid.
"The process was very standard: I sent in a CV and cover letter, then had two interviews with HR, a longer one with my current manager, and two final ones with other project managers of the team."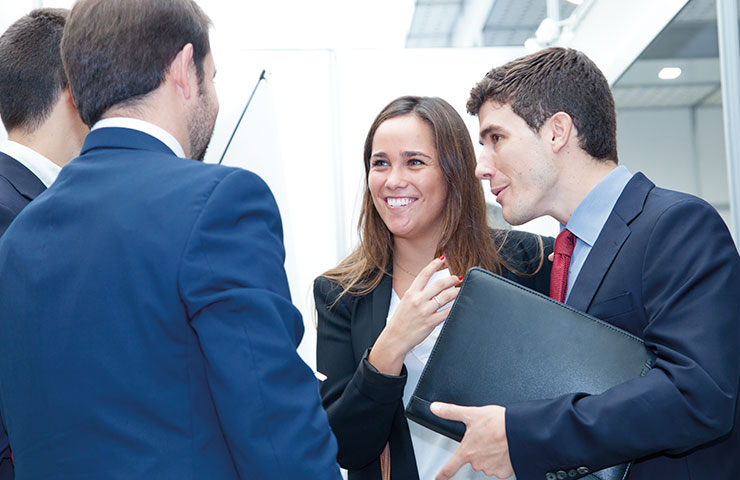 The entire process was carried out online and, before long, she was on a plane to Paris. Her top tips for job success are to:
1. Define a clear added value for the company.
2. Leverage your background, experience and interests.
3. Stand out from the crowd.
4. Network. Network. Network.
Another fantastic example of post-IE University success is Xuhui Gan, an alum of the Master in Management. Once her time at IE University was over, she went on to become a Risk Analyst at BBVA.
For Xuhui, the hiring process followed three separate steps, which began with online tests followed by an English test and finally two interviews. As for her top tips, she highlights keeping an eye out for opportunities and learning the language in your target job market.
At IE University, our Talent & Careers department strives to provide the best possible professional opportunities for our students. And Alison and Xuhui are just two examples of the fruits of this hard work. But we're not content with past successes. Our comprehensive network of career services, resources and support systems are continuously refined to maximize your professional potential. Combined with the unique focus on providing resources for employers, it's no wonder that so many of our alumni go on to enjoy long and successful careers.
If you'd like to find out more about our Talent & Careers department, please get in touch with us today!