IEU SUMMER PROGRAM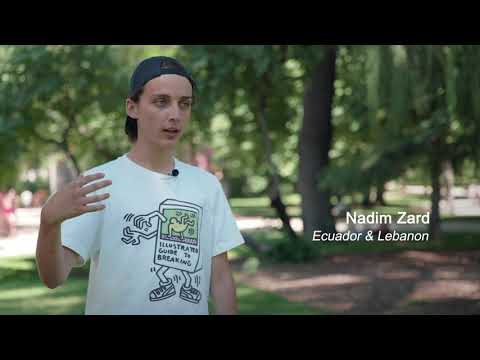 Summer is the perfect time to expand your knowledge of integral subjects vital for a well-rounded education. Focusing on the social sciences, including economics, the humanities, cultures and social & business entrepreneurship are hugely beneficial regardless of what you intend to study at university.
It's also an excellent way to acquire the essential soft skills needed in any undergraduate program, such as teamwork, creative problem-solving, negotiation and communication techniques.
The IEU Summer Program is an intensive summer program designed for high potential students from all around the world. It allows them to grow personally and professionally, while making friends in an engaging, international environment.
WHY NOT BRING YOUR FAMILY WITH YOU?
We offer a 10% program fee concession for family members who join the Summer School for Young Professionals or Executive Summer School!
PROGRAM CONTENT

The first week will focus on improving your interpersonal and leadership skills. During the second, you will study one of the 5 specialized tracks:

• Architecture & Design
• Business & Entrepreneurship
• Digital Innovation & Technology
• Marketing, Communication & Behavior
• Law, Economics & International Relations

The academic program will be complemented by different extracurricular and team-building activities that will allow you to enjoy the vibrant cities of Madrid and Segovia (company/museum visits, city tours, etc.) Please see below for the provisional program agenda.

*The minimum track size is 10 students. The maximum capacity per track is 30 students.
ACCOMMODATION AND FLIGHT DETAILS

Arrival in Madrid is on Sunday, July 7th. We will provide two bus services from the airport to Segovia: the first at 11am and the second at 4pm. Please make sure to arrive in Madrid on time to take one of our buses. If, for any reason, you are unable to make it in time you will have to arrange your own transport to Segovia.
At the airport, our staff members will be waiting for you at an official meeting point. You will be given a list of our team members' contact details to call in case of emergency.

On Friday, July 19th, the return journey will set off around 4pm, after the Final Presentations have concluded. To this end, please book the afternoon/evening flights. Our staff will accompany you to the airport on the Friday. If you fly on Saturday and need to stay in Madrid a day longer, you will be responsible for covering the costs of that night. One of our chaperons can accompany you to the airport on Saturday morning (until 12 PM only), so please book morning flights, if you need our assistance.

If you cannot find a flight within above mentioned timeframes, or you need to stay a night longer because of the flight schedule, please contact us at ieusummerprogram@ie.edu.
During the first week (July 7th – 14th) housing will be in the Factory Residence in Segovia. Participants will be accommodated in single or double rooms with ensuite bathrooms and all meals included.
FACTORY RESIDENCE SEGOVIA
From July 14th until July 19th, the Residencia Universitaria Claudio Coello in Madrid will be used as accommodation. Participants will have access to single rooms with en suite bathrooms and all meals included.
RESIDENCIA UNIVERSITARIA CLAUDIO COELLO
WHY COME TO THE IEU SUMMER PROGRAM?
This program is for open-minded, internationally focused people who are actively seeking new endeavors and challenges. Through our faculty-led workshops, you will get an up-close and personal opportunity to understand the education model and teaching styles used at IE University.
Top ranked university offering an innovative and insightful program with a diploma awarded upon successful completion.
IE University Recognition
FIND YOUR VOCATION
Choose one of our tracks to discover your passions and talents, and help you decide what to study at university. Learn how to become a great and inspirational leader.
INTERNATIONAL ENVIRONMENT
Meet students from all over the globe. In past programs, we have had an average of 26 nationalities represented on campus.
While exploring the sights in Madrid and Segovia, why not learn some Spanish? It's the official language in 22 countries, and spoken the world over!
REASONS TO VISIT MADRID
CONTACT US
If you have any questions, please contact us at ieusummerprogram@ie.edu.