IEU SUMMER PROGRAM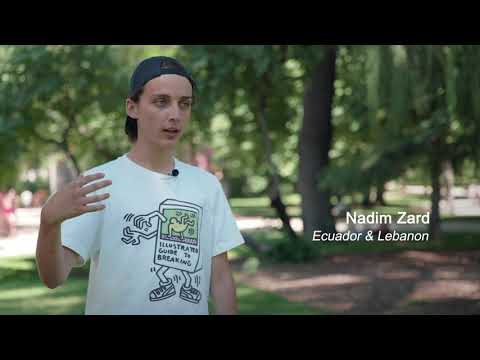 Summer is the perfect time to expand your knowledge of integral subjects vital for a well-rounded education. Focusing on the social sciences, including economics, the humanities, cultures and social & business entrepreneurship are hugely beneficial regardless of what you intend to study at university.
It's also an excellent way to acquire the essential soft skills needed in any undergraduate program, such as teamwork, creative problem-solving, negotiation and communication techniques.
The IEU Summer Program is an intensive summer program designed for high potential students from all around the world. It allows them to grow personally and professionally, while making friends in an engaging, international environment.
WHY NOT BRING YOUR FAMILY WITH YOU?
We offer a 10% program fee concession for family members who join the Summer School for Young Professionals or Executive Summer School!
PROGRAM CONTENT

The first week will focus on improving your interpersonal and leadership skills. During the second, you will study one of the 5 specialized tracks:

• Architecture & Design
• Business & Entrepreneurship
• Digital Innovation & Technology
• Marketing, Communication & Behavior
• Politics, Law & International Relations

The academic program will be complemented by different extracurricular and team-building activities that will allow you to enjoy the vibrant cities of Madrid and Segovia (company/museum visits, city tours, etc.) Please see below for the provisional program agenda.

*The minimum track size is 10 students. The maximum capacity per track is 30 students.
This track is for those who are passionate about architecture & design and aspire to make innovative and meaningful environments! It offers a dynamic program that combines solid design foundations with real-life projects to take on the world's complex, fast-changing, and unpredictable challenges with a sustainable approach. Come and explore the Architecture & Design track with an open mind, learn how to create a portfolio and be ready to "roll up your sleeves and get your hands dirty". Design is challenging, fun, necessary, creative, involves a lot of practice (and sometimes failure) and is enormously satisfying.
ARCHITECTURE & DESIGN TRACK AGENDA
Are you are an innovative thinker who is passionate about business and entrepreneurship? Come and discover how entrepreneurship as a mindset and a way of approaching business is changing the world, as well as how organizations and leaders manage change. Anyone in the business world knows that it's currently experiencing an exponential rate of change, which is affecting organizations and societies everywhere. Participants in this track will learn about, and work on, leveraging change to drive positive impact in different sectors, and ultimately, our global society. The track in Business & Entrepreneurship will offer you resources and flexibility to turn your ideas into reality and jump-start your business journey!
BUSINESS & ENTREPRENEURSHIP TRACK AGENDA
Do you want to be the next game changer? In the last few years we have seen how technology has been changing and disrupting all aspects of our life. From face recognition to open a bank account to a personal shopper in our phone guiding us through the best offerings tailored to our tastes. In this context, when we talk about digital transformation, we see technology as the enabler that makes us, societies, businesses, governments and the world better and more efficient. Technology currently enables earthquakes prediction to reduce its effects, finds new cures for diseases or enhances our lives through Smart Nations. AI, Blockchain, Big Data, Drones, Cybersecurity are only some of the topics that we will touch to create a better world.
During this week, you will have the opportunity to dive into cutting-edge technologies. You will learn what is behind the scene and how to apply them to disrupt the status quo and improve society and the world. By the end of this hands-on week you will have the chance to present your own tech-based solution for a better life/world.
DIGITAL INNOVATION & TECHNOLOGY TRACK AGENDA
MARKETING, COMMUNICATION & BEHAVIOR TRACK
In today's world, consumers are constantly receiving multiple messages. No matter in which direction we turn, an ad is trying to sell us something: from a new political party to an up and coming social media platform; from the hottest Netflix series to a jeans brand. You name it… Thousands of messages blur our vision as audiences and consumers are more resilient to such messages. Engaging audiences and understanding the brand customer journey in a world of clutter is one of the greatest challenges for the current generation of Marketing Communication professionals. Behavioral science is critical to understanding why humans react to certain messages the way that they do and the optimal way to influence change in consumer behavior. Getting a message across in the world of content saturation and being able to engage in a conversation with audiences will be the central theme of the "Marketing Communication and Behavior" summer course.
Today, the world is more interconnected and interdependent than ever. Globalization, Terrorism, pandemics, climate change, poverty, human rights violations, financial crises, the rise of artificial intelligence, all affect us independently of the country or continent we live in. We are now in a moment of unprecedented change. Historically, evolution has been in nature's hands. Today, conversely, it is largely in human hands, but we need to be careful, using technology, cooperation and scientific progress as forces for good. The future of humanity is at stake. Today's young generation will collectively determine whether civilization and our planet survive or not. This track will explore how together we can address and overcome these global challenges of the 21st century.
POLITICS, LAW & INTERNATIONAL RELATIONS TRACK AGENDA
REGISTRATION
Registration for the IEU Summer Program 2019 will open in November 2018. If you have any questions, please contact us at ieusummerprogram@ie.edu.

ACCOMMODATION AND FLIGHT DETAILS

Arrival in Madrid is on Sunday, July 7th. We will provide two bus services from the airport to Segovia: the first at 11am and the second at 4pm. Please make sure to arrive in Madrid on time to take one of our buses. If, for any reason, you are unable to make it in time you will have to arrange your own transport to Segovia.
At the airport, our staff members will be waiting for you at an official meeting point. You will be given a list of our team members' contact details to call in case of emergency.

On Friday, July 19th, the return journey will set off around 4pm, after the Final Presentations have concluded. To this end, please book the afternoon/evening flights. Our staff will accompany you to the airport on the Friday. If you fly on Saturday and need to stay in Madrid a day longer, you will be responsible for covering the costs of that night. One of our chaperons can accompany you to the airport on Saturday morning (until 12 PM only), so please book morning flights, if you need our assistance.

If you cannot find a flight within above mentioned timeframes, or you need to stay a night longer because of the flight schedule, please contact us at ieusummerprogram@ie.edu.
During the first week (July 7th – 14th) housing will be in the Factory Residence in Segovia. Participants will be accommodated in single or double rooms with ensuite bathrooms and all meals included.
FACTORY RESIDENCE SEGOVIA
From July 14th until July 19th, the Residencia Universitaria Claudio Coello in Madrid will be used as accommodation. Participants will have access to single rooms with en suite bathrooms and all meals included.
RESIDENCIA UNIVERSITARIA CLAUDIO COELLO
WHY COME TO THE IEU SUMMER PROGRAM?
This program is for open-minded, internationally focused people who are actively seeking new endeavors and challenges. Through our faculty-led workshops, you will get an up-close and personal opportunity to understand the education model and teaching styles used at IE University.
Top ranked university offering an innovative and insightful program with a diploma awarded upon successful completion.
IE University Recognition
FIND YOUR VOCATION
Choose one of our tracks to discover your passions and talents, and help you decide what to study at university. Learn how to become a great and inspirational leader.
INTERNATIONAL ENVIRONMENT
Meet students from all over the globe. In past programs, we have had an average of 26 nationalities represented on campus.
While exploring the sights in Madrid and Segovia, why not learn some Spanish? It's the official language in 22 countries, and spoken the world over!
REASONS TO VISIT MADRID