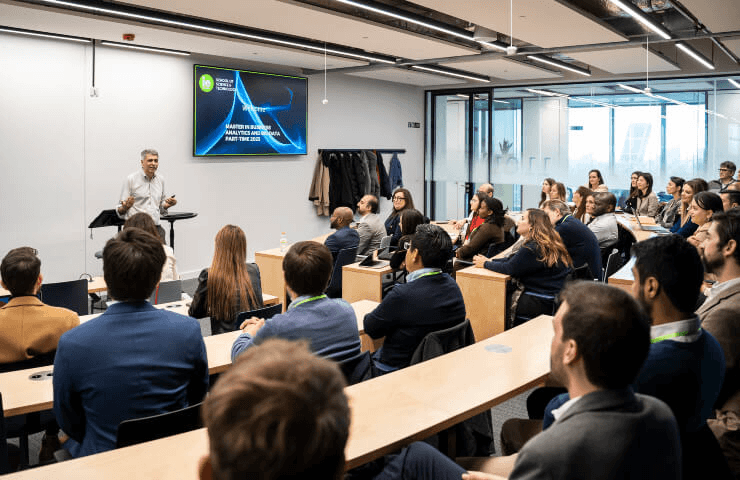 IE University has joined universities and startup incubators from 14 European countries to create Rise Europe, a new platform that promotes technological entrepreneurship in Europe. This European network aims to strengthening the technological and entrepreneurial ecosystem in the region and reinforce Europe's position as a world benchmark in innovation. Among its objectives, Rise Europe will contribute to the debate on trends in technology, artificial intelligence, sustainability, and climate change, among others. Ikhlaq Sidhu, Dean of IE School of Science and Technology, is leading this initiative at IE University.
In addition to IE University, the other universities and institutions that form Rise Europe are: Aalto University, Agoranov, Beta-i, Campus Founders, DLD, DTU Skylab, École Polytechnique, ETH AI CENTER, ETH Zurich, HighTechXL, Imperial College London, INiTS, KTH Innovation, EnSpire Oxford at Oxford University, Sting, TalTech, Tangent at Trinity College Dublin, UnternehmerTUM, and Vento. Countries represented are: Austria, Denmark, Estonia, Finland, France, Germany, Ireland, Italy, the Netherlands, Portugal, Spain, Sweden, Switzerland, and the United Kingdom.
The members of Rise Europe will co-create innovation and build a sovereign technological and economic Europe, will promote the entrepreneurial ecosystem and strengthen the network with industry, family businesses, institutional authorities and investors. In addition, Rise Europe will recognize the best emerging startups each year and facilitate their access to the best talent, clients and capital in Europe. Rise Europe will also broaden the reach of local ecosystems to better respond to societal challenges.
"We are proud to be founding members of Rise Europe, a platform that promotes technological entrepreneurship and reinforces Europe's sovereignty in innovation."
Ikhlaq Sidhu, Dean of the IE School of Science and Technology at IE University
"Entrepreneurship and innovation are strategic values that are part of our DNA at IE University and 25% of our students, from 140 countries, focus on entrepreneurship at some point during their professional careers. Furthermore, over the past 10 year, IE University has co-organized South Summit, which is one of the main entrepreneurship and innovation platforms in the world," said Ikhlaq Sidhu, Dean of the IE School of Science and Technology
IE University, host of the Rise Europe Summit 2024
The founding members of Rise Europe met last week at UnternehmerTUM, the center for innovation and business creation at the Technical University of Munich, based in Elmau, to establish the main objectives of Rise Europe and methods for collaboration. The next annual Rise Europe Summit will take place at IE University, in Madrid, in April 2024. Rise Europe members will actively support each other to drive education, open innovation and acceleration; facilitate the access of new companies to their markets, will annually recognize the top European start-ups and accelerate their growth with support mechanisms. In addition, Rise Europe will organize events between startups, established companies,and European investors, and will promote the participation of women in the entrepreneurial ecosystem.