Students from IE School of Science and Technology pitched sustainable solutions to top Ryanair executives for a real industry data challenge proposed as part of Sustainability Datathon 2022, with top winners awarded cash prizes.
The three-week data challenge asked students to find an optimal solution that decreases the weight of Ryanair planes to reduce fuel consumption. The winning team, Respect, provided a regression based machine learning model estimating a reduction of more than 36,000 tons of CO2 per year in Europe.
Ryanair CEO Eddie Wilson and Head of Data & Analytics Michael Mouire, as well as Vice Minister of Universities, Science and Innovation in the Community of Madrid, Fidel Rodríguez-Batalla, were on hand for the closing ceremony and handed the winners their awards– including €3,500 for the top prize, €2,000 for second place and €1,000 for third.
"The whole field of data science has greatly evolved thanks to competitions of this kind, " said Professor of Applied Mathematics at IE University, David Gómez-Ullate Oteiza, highlighting the importance of the Sustainability Datathon.
On Oct. 6, Ryanair, the largest European airline presented the challenge of estimating the ramp weight of an aircraft, just before it leaves the terminal, using only data available in advance. This issue puts students into a real-life situation.
Then, over the course of three weeks, graduate and undergraduate students in teams of four collaborated with their mentors and participated in masterclasses to solve the problem.
"Participating in a Datathon is not about winning, it is about applying your knowledge to a real problem and working as a team," said Dae-Jin Lee, Mentor of the winning Respect team.
Mentors guided students through the process of creating a solution and working as a team. Eduardo Rodríguez, who mentored the second-place team Bayes Genes, said he enjoyed working with students on a current industry issue.
"Even though you are the mentor, you always learn something new from the students, they are so creative," said Rodríguez.
Of the 16 groups of bachelor and master students from Computer Science and Artificial Intelligence and Business Analytics and Big Data, nine teams presented a predictive model in Kaggle, an online community platform for data scientists.
Participants said the real-world experience taught them skills they don't learn in the classroom.
"We tried to overcome a challenge of time and resource limits by establishing an internal system using all our computers to benchmark and cross-validate various strategies," said Yousif Alsaffarf, member of Respect and winner of the Sustainability Datathon.
Yahya Laraqui, a member of the second-place Bayes Genes team, said the Datathon offered a chance to connect your name with an honorable initiative.
"We put a lot of passion in this Ryanair Datathon, since it focuses on a noble cause which is the 'sustainability goal' and we were excited about associating our name," Laraqui said.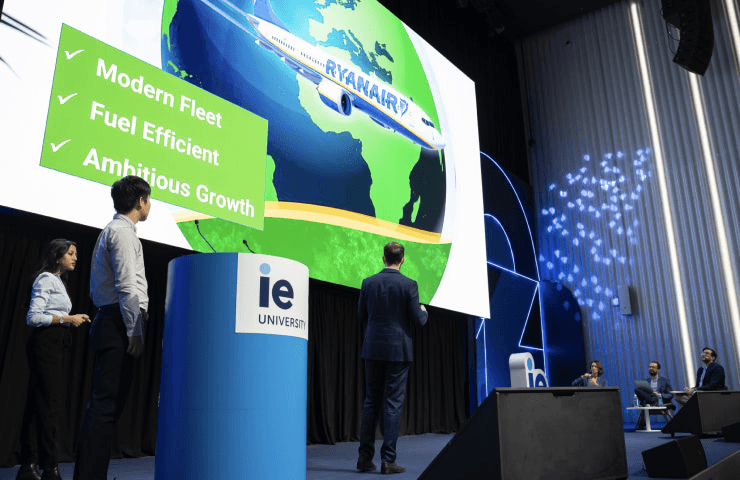 Moreover, Laraqui said the opportunity to pitch to top executives of Ryanair was exciting and useful for his future confidence.
"At the end of the day, all the hard work is very worth it, especially when we get to present our solution in front of people with a great experience and high positions in the Society," he said.
Ryanair executives and jury members said they were impressed by the students' proposals and highlighted the importance of events like the Sustainability Datathon.
"This great project fits right into lessening the carbon footprint," said the CEO of Ryanair.
José Esteves, Vice Dean Graduate Programs at IE School of Science and Technology, said the Datathon achieved its main goal, "We are bringing real problems to academia and promoting effective and experiential learning"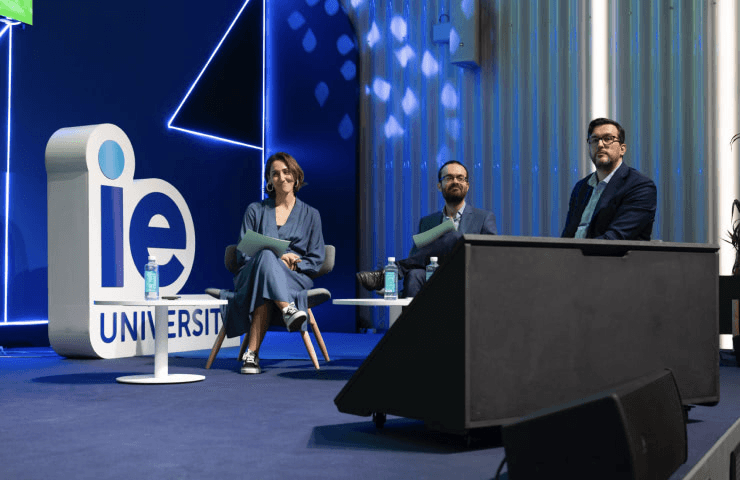 Participants said they were thankful for the chance to network during such events, which one said creates new opportunities.
"These types of competitions open doors for job positions," said Laraqui.
The IE Sustainability Datathon is part of the IE Sustainability Foundations Certificate, which students from the IE School of Science and Technology can obtain by completing sustainability-related courses and projects.
Ryanair and IE have agreed towill both continue to work on projects and challenges related to sustainability.