Promoting transparency at every level
The new age of Compliance
Corporate compliance not only takes on the responsibility of ensuring that companies meet the dynamic and complex regulations imposed upon them by various governing bodies… it goes beyond.
The world has witnessed how a lack of a compliance program can be devastating for corporations worldwide. In the last decade, and more so in most recent years, the wake of corporate scandals and complex privacy and cybersecurity matters, has driven lawmakers to pass an increasing number of regulations which must be complied by corporations around the world. As a result, ensuring compliance with local and international laws has become increasingly important for companies who are seeing increased value in investing in strong compliance programs.
Professionals in the sector, from in-house counsel to compliance and HR officers in a wide range of industries, find it essential to develop an efficient compliance program introducing effective legal risk management processes covering a wide range of areas, from antitrust to anti-corruption, and from employee protection to data protection and privacy.
Nonetheless, compliance officers today face many challenges. Not only is the pace of regulatory change and global expectations constantly changing, but also new technologies and analytics are becoming increasingly important, expanding the role of a Compliance Officer beyond regulatory and legal compliance to include a wider range of concerns such as ethical standards and sustainability.
Considering these challenges and opportunities in the sector, IE Law School offers Compliance programs in different formats for professionals with a variety of backgrounds and experience levels; from an online or intensive executive program to Master in Global Corporate Compliance, a new program offered in Full-Time and Part-Time format, designed with the collaboration of NYU School of Law.
Programs in Compliance
Whether you are a professional or a recent graduate, find the program format that best suits your objectives and become the next compliance officer.
This program, offered in a part-time and full-time format, is structured to be a perfect combination of compliance disciplines and business skills required in a corporate environment while applying the most sophisticated IT compliance solutions.
Learn more about this program
Through this Program participants will gain a deep knowledge and a practical vision of the matters currently covered by Compliance.
Take a look at the advanced compliance program
In this executive program participants can especialize to be the next compliance officer while gaining practical and multidisciplinary vision of Compliance.
Learn more about this program
This program provides students a broad understanding of Compliance thanks to the experiences and knowledge shared by an exceptional and diverse faculty.
Learn more about this program
Over the course of this program, data protection professionals will receive a global, comprehensive training in order to consolidate their experience and become successful Data Protection Officers. The program covers the requirements of the DPD and DPO, and therefore prepares students for these examinations.
Learn more about this program
The importance of Compliance in a globalized world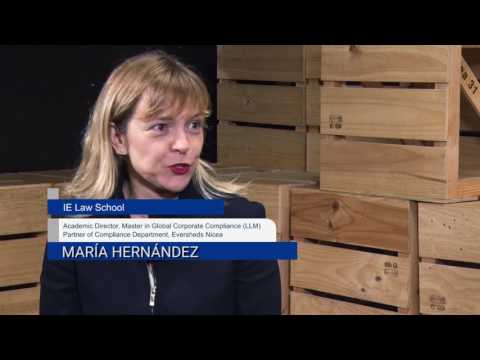 In addition to keeping companies out of financial and political trouble, compliance officers today go beyond the rule book: they have the opportunity to make an impact. In this video, Maria Hernandez, Director of the Master in Corporate Global Compliance and Partner of the Department of Compliance in Eversheds Nicea, explains why Compliance is so important at every level.
% Firms expect an increase in the cost of compliance officers
Compliance programs offered at IE Law School
Looking for impact? Pursue a career in Compliance
A career in Compliance offers many ways to make an impact on corporations and society.
Today the role of the Compliance Officer (CO) has become critical and the size of the global compliance market has predicted growth in all regions. The forecasted development in the market will have a direct impact on the number of jobs in compliance and will certainly increase the number of newly created in-house compliance roles.
In the age of globalization, Compliance Officers play an increasingly vital role in international business and today's corporate compliance officers are being confronted with a brand new set of challenges—and a valuable opportunity to make an impact in the world.
If you decide to be the next compliance officer, these are some of the job titles you will encounter along the way:
Compliance Officer
Ethics Program Specialist
Compliance Analyst, Corporate-Regulatory Compliance
Security and Compliance Manager
Legal Specialist
Corporate Risk
Audit & Compliance Coordinator
Analyst – Ethics & Compliance
Discover the latest news in Compliance
Director of the Master in Global Corporate Compliance re-selected as member of B20
Maria Hernandez, Director of the Master in Global Corporate Compliance and partner at the firm Eversheds Sutherland, has been selected as a member ...
20 Jan 2021
Business and Corporate Law,
Compliance,
News
The IE Compliance Club: A student led initiative that fosters ethical business practices for a sustainable society
The IE Compliance Club, founded by a group of students of the Master in Global Corporate Compliance, seeks to foster discussions that are the basis ...
19 May 2020
Compliance,
News,
Students Experience
California Bar Examination and QLTS study now possible through IE Law School partnership with BARBRI
With this new agreement, IE Law School becomes the first European Law School to offer a Master of Laws (LL.M.) and Doble Máster en Abogacía ...
17 Apr 2020
Business and Corporate Law,
Compliance,
Global, Comparative and European Law,
News,
Students Experience