Nicolas Ramírez Garcia Peña turned to IE University to pursue his master's degree because he wanted to meet people from all around the world. Born and raised in Mexico City, the institution had been on his radar for quite some time despite growing up on the other side of the Atlantic Ocean. "IE University has been getting a lot of recognition recently. I heard about it from my friends and also from people that have studied there and then gone back to Mexico to work," he says.
What interested Nicolas the most when considering the university as an ideal location to seek his Master in Applied Economics was the global focus of both its undergraduate and graduate offerings. "I really like the international mindset you get from studying at IE University," he admits. For Nicolas, specializing in economics was important, but so was being a versatile economist in a global climate. Interacting with students and faculty from around the world added value to his education in a way that couldn't be replicated in textbooks.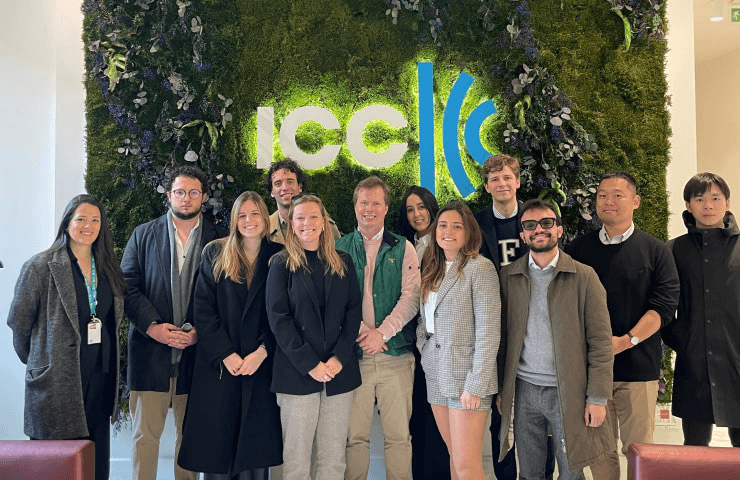 Before coming to IE University, Nicolas studied business administration with a minor in economics in Queretaro. During the last year of his bachelor's degree program, he worked as a digital marketing intern at Amazon Music. Looking to specialize in the area of economics, he decided it was time to go back to school for his master's degree.
For Nicolas, studying at IE University hasn't just been a purely academic experience; he also believes that his time in Madrid has shaped him as a person. "The academic tools that IE University provides its students are undoubtedly very powerful, but there is also a lot of personal development that happens while studying here," he reveals.
He has really enjoyed all the extracurricular activities the university offers, especially the workshops. Nicolas sees them as an opportunity to gain valuable lessons outside the classroom and also meet students from various disciplines: "It's a chance to get to know a lot of different people. I think this has really helped me grow as a person." A large part of the IE Experience is its diversity, which he also appreciates. Interacting with students and faculty members from all around the world, who offer their unique backgrounds, beliefs and perspectives, has enriched his studies immensely.
Another resource that Nicolas has taken full advantage of is IE Talent & Careers, which has helped him perfect his résumé and taught him how to perform well in interviews. He now knows what to expect when navigating the job search and application process. And, he shares, if a student is unsure of what career path they want to pursue, the IE Talent & Careers team can help guide them in the right direction based on their own personal goals and interests.
Nicolas advises that prospective students of the Master in Applied Economics go back to basics and make sure they have a good foundation in essential economic concepts. "It can be hard at first to jump right into it even if you have a strong economic background," he says. And this is a relevant consideration since many students join the program after working in the professional world for a few years. Getting back into the rhythm of school can be an adjustment, but having a strong hold on the fundamentals can help them get the most out of the experience in the end. "The classes are tough at times, but I have learned so much," he adds.
Overall, Nicolas says his time at IE University has been exciting and full of new opportunities: "I have learned a lot about different people and cultures and I have made very good friendships. Living outside of your country and even your continent is a very different and rewarding experience. I truly think that I have grown a lot, both as a student and as a person."