At a Glance
The Master in Finance affords up-to-the minute knowledge in the most innovative areas of finance, such as: securitization, swaps, commodities, equity derivatives, leveraged buy-outs, geopolitics, behavioral finance, risk governance, and Islamic finance.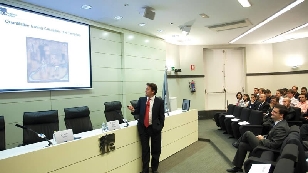 Ver Detalles
Pre-Program
Introduction to General Program.
Intake 1:
AUG - SEP
Before the program starts we offer a host of additional opportunities and pre-programs that you can participate in.
Courses
Extend
Period 1
Induction to Finance
Intake 1:
SEP - DIC
The first period is an induction to finance module, where you will learn the key concepts of finance, financial markets, investment banking, financial analysis and world economy. Its comprehension is key to understand the courses comprised in the second and third periods.
Trip to New York (Jan)
Courses
Extend
Period 2
Specialty Finance
Intake 1:
JAN - APR
Following an initial phase during which you take courses covering general finance, the second period will see you focusing your studies within a range of areas such as private equity and equity derivatives.
Courses
Extend
Period 3
Applied Finance & Electives
Intake 1:
APR - JUN
In this last period you will have the option to tailor your studies by choosing electives that concentrate on specific areas of finance such as corporate finance, equities, fixed income, or private equity. Students from the Masters in Finance will have the chance to study with students from the Masters in Advanced Finance, expanding your perspectives and enabling you to build up a wider network.
Courses
Extend
The Program Structure
The Syllabus
The program is divided into three periods. In the first two periods, students are required to mandatorily take all subjects. In the third period, however, they have the option of choosing electives according to their preferences.
The Master in Finance electives include many of the most fashionable topics in finance, in order to meet the needs of students who wish to work in these specific areas in the future. These electives allow students to develop their own career strategy, and adapt the program according to market and company requirements.
Trip to New York (optional)
CFA Level I Preparation
Preparatory classes for the CFA I are mandatory for students of the Master in Finance program. We are confident that this will have many benefits for our students with regards to career opportunities.
IE Master in Finance students have five scholarships available per calendar year to enable them to take CFA level I. Every year, five students will be selected to take part in the CFA Research Challenge.
Dual Degree: Master in International Management + Master in Finance
Dual Degree: Master in International Management + Master in Finance
The Dual Degree combines IE's prestigious Master in International Management program with the sophisticated and deep financial education provided by the Master in Finance. Our Master in International Management covers all the core fields of business such as entrepreneurship, strategy and accounting, whereas our Master in Finance looks at cutting edge fields such as corporate social investment, securitization, leveraged buyouts, behavioral finance and Islamic finance.
Dual Degree students will graduate in 17 months and start the Master in International Management from February to July and then, instead of taking the specialization course of Sales & Marketing, International Business or Digital Business in their 3th period (September – December), they will join the complete Master in Finance program from September to June of the following year.