Surya was born into a business family in a small town in Hyderabad, India. This was where his passion for business and finance came from, and he's especially interested in venture capital and private equity. Indeed his long-term goal is to set up a venture capital firm in India.
Before joining IE University, Surya graduated with a bachelor's degree in Commerce from Symbiosis College of Arts & Commerce, with honors in Banking and Finance. He has also gained qualifications as a Chartered Financial Analyst (CFA), and is currently pursuing Level Three certification.
After completing his undergraduate studies, he worked for the Northern Trust corporation as an analyst in the Fund Accounting department. Surya later joined Flyboat Startups and Innovations, where he was a senior analyst and one of the company's first employees.
During his tenure at Flyboat, Surya assisted more than 15 startups in fundraising and financial planning. He was also responsible for building robust financial models and creative investor pitches. Surya explains that this close interaction with entrepreneurs allowed him to learn a lot about startups, the intricacies of venture capital, and business in general. The outbreak of the COVID-19 pandemic brought Surya closer to home. He got involved in the family business, which operates within the pet care industry.
A year later, he began his studies at IE University. After completing his CFA Level Two exams, Surya was looking for a program that would do more than improve his theoretical understanding of finance. He also wanted practical knowledge that would bridge the gap between the textbook and real-world application. The Masters in Finance degree was the perfect fit.
He was first drawn to IE University because of its globally respected brand name and diverse student community. Moreover, he couldn't pass up the chance to live in one of the best cities in Europe.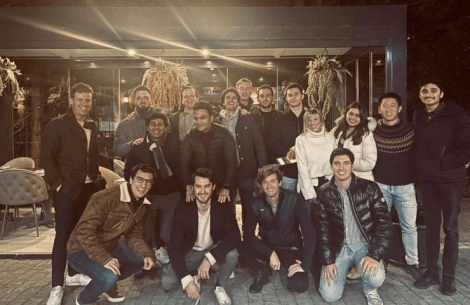 So far, Surya is convinced that he made the right choice. He loves that the program is comprehensive but flexible. According to him, the elective period allows you to concentrate on your specific areas of interest, he says. He is currently specializing in Alternative Investment, having chosen subjects such as "Geopolitics & Investing" and "Entrepreneurship through Acquisition" as electives.
He also appreciates the dynamic experience of studying with such a diverse cohort. Surya has learned how to collaborate with people from different countries and cultures; through countless group projects, he has gained a level of cultural understanding and true international exposure that he would not have acquired otherwise.
For Surya, every day at IE University is different and inspiring. He received first-hand knowledge of real-world financial ecosystems from top-notch, globally oriented professors with immense industry experience. Further, he explains that his classmates and colleagues are some of the smartest minds around. They've made the program more interesting by bringing different perspectives to class discussions.
Overall, he credits IE University with expanding his boundaries, encouraging him to think outside the box and bringing him one step closer to his goals. In the next ten years, Surya sees himself heading his own venture capital fund that focuses on tackling the social and economic problems that many emerging economies face.
If you're thinking about pursuing the Master in Finance program, Surya has some words of wisdom for you. He advises you to keep an open mind and step out of your comfort zone if you want to excel. You have to be ready to unlearn and relearn a few things along the way, but Surya says that while the program is rigorous and challenging, you will enjoy your time at IE University.