Over fifteen executives from the sustainability sector participated in the 13th edition of the Social Responsibility Forum, discussing dynamics, trends and challenges from the perspective of both renowned conglomerates and newborn start-ups.
Participants highlighted the need for more purpose-driven companies. They asserted that companies' adherence to the Sustainable Development Goals (SDG) helped businesses gain traction thanks to technological advances, growing demands from investors and increasing consumer consciousness about sustainability.
The IE Net Impact Club, in collaboration with IE Center for Social Innovation, IE Foundation and IE Campus Life held the event, focusing on the future of sustainable business, finance and consulting.
IE Center for Social Innovation Director Conchita Galdon welcomed speakers and students, highlighting IE's commitment to pioneering social impact within its community.
"We are a community that attracts people because of our values, we attract people who are not fearful of complicating their lives, who embrace it, who are genuinely curious to jump in the mud. These people tend to be generally curious about everything, which is why, we attract the kind of student who cares, who also cares about improving the lives of others and have an impact," she said.
Five panels addressed the importance of social responsibility frameworks to guide successful business models, through the eyes of sustainability executives and founders of impact investment, sustainable consulting and transformation tech start-ups.
Speakers included: CEO of Maze Impact Antonio Miguel, Director of Social Innovation at Telefonica Arancha Diaz-Llado, Director of Community Investment at BBVA Lydia Del Pozo, Head of Sustainability at Coca-Cola Carmen Gomez Acebo, CEO of World Influence Alliance Carlo Sentis, Founder of Social Nest Margarita Albors, Co-founder of Fundie Ventures Stuart Minnaar, Founder of Up Social Miquel De Paladella, COO of Moggie Sara Ylipoti and World Food Programme Country Director for Algeria Romain Sirois.
CEO and Co-Founder of Portuguese impact investment firm Maze Impact, Antonio Miguel, offered his personal experience as pioneer of acceleration programs, social impact bonds and venture capital in the Portuguese market. Miguel emphasized the growing attraction for social impact bonds as new finance mechanisms to fund social innovation, of which Maze has launched 5 of the 138 worldwide. At the same time, Miguel stressed the importance of providing value to the government by diminishing transaction costs and measuring return, while recognizing the high demand for new talent in the industry.
"We at Maze believe that impact is one of the most auspicial opportunities nowadays. All markets are converging into impact. More than 2/3 of millennials and investors are looking at impact. It is not a matter of whether will it happen, it will happen. And when it happens, talent should be in the right place to embrace that opportunity," said Miguel.
The panels also boasted discussions on the revolutionizing nature of this sector, stressing the shift from Corporate Social Responsibility (CSR) departments to Sustainability ones, the United Nations Sustainable Development Goals and the overall misconception that focusing on sustainability hinders business growth.
"It depends on the activity that the company does. That is why we chose 11 out of the 17 SDGs, I think you have to choose where you can provide greater impact, you cannot to everything. For us, to take care of the water is really important, because it is the main resource for the world but also the main ingredient for our beverage. So, we are doing a lot of activities that aim to replenish 90% of the water we use in our operations. We have a lot of these projects all around Spain," shared Head of Sustainability at Coca-Cola Carmen Gomez Acebo.
Panelists agreed that consumer demand was a growing trend and that industries needed to step in line with the power of impact investing.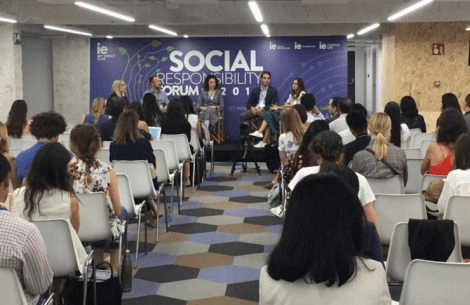 But, the Founder of Social Nest Margarita Albors argued impact investing is still a fragile trend and needs nurturing—and that Spain should play its part in making it a global reality.
"There is a lack of awareness in this industry and in society in general, in public institutions and foundations in order to move into impact investment. There is a need to let people know about the benefits of this. We want to make Spain part of a global network to cooperate. It is a very young sector, but I think we are in the right path," Albors said.
Panelists also agreed on the need for corporate partnerships and social impact funds committed to solving the biggest social problems for governments. The growing position of start-ups as social impact catalyzers and the variety of possible business models gave speakers confidence in a better future.
"In an ideal world, there is no trade-off between profitability and impact."
"In an ideal world, there is no trade-off between profitability and impact. There are so many businesses out there where those two things are intertwined between each other that you cannot even separate them," said Fundie Ventures Co-Founder and IE alumn Stuart Minnaar.  "I feel like at the moment if you are applying for any job, if you have that type of understanding you are one step above. That's the direction all companies are heading towards."