Alumni and recruiters from around the world celebrated IE Business School's first series of virtual networking sessions, five regional specific sessions held on Zoom with more than 625 attendees.
"This was a very well executed event and I hope it will act as a continuing platform for students to engage with colleagues, alumni and people in the industry," said Sambhav Golechha, analyst at Goldman Sachs and Master in Finance alumn, who participated in the Headhunters and Alumni panel for India.
Global Alumni Relations, Young Alumni Engagement, Talent & Careers and International Office teams created the initiative, which included more than 50 headhunters and catered to career needs for Business School students and alumni. The five sessions held from May through July focused on North America, DACH region, Latin America, UK & Ireland, and Spain.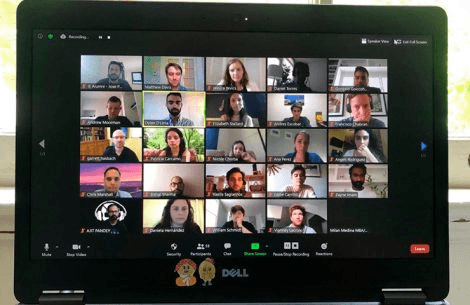 "The key objective is to help students find jobs from the region," said Sabine Pivoz, Associate Director of Careers and Alumni Relations for Germany, Austria and Switzerland (DACH region). That DACH event alone attracted some 80 participants.
"But, it wasn't just job-seeking students. There were a lot of very senior people—alumni-- who want to move to the DACH region. It's a great way to mingle with the local community and have informal conversations."
Matthew Davis, Associate Director of IE North America said the networking event was a hit.
"People loved meeting others in their vertical and their geography, and I know that several of the conversations continued long after the event concluded," Davis said.
The ripple effect from the sessions has already started bearing fruit.
"Given my experience in this entire job searching process during Covid, the virtual networking was a game-changer. IE helped so much," said Stephanie Boldrin, who secured a job as a consultant for Tech Talent Recruitment in Product Management for Robert Walters two months after attending the UK & Ireland Networking event.
"The high level of engagement we alumni had in participating and asking questions, along with the presence of talent recruitment firms and hearing their side about Covid and the world outcome really made me focus," Boldrin said. "Aside from getting a job, the best part of the networking session was seeing different realities of alumni that have made it."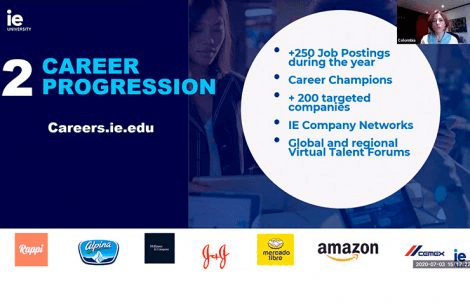 Job-seekers applauded the access and personalized attention the sessions afforded them to senior alumni, recruiters and headhunters.
Iram Surti said meeting IE alum Prashant Kumar, who currently works as Senior Product Manager at Amazon, has been crucial in her effort to stand out from other contenders. Not only did he help her improve her resume, but she said he also helped her get more attention with other companies by seeking product management roles.
"He gave me a lot of good feedback and good mentoring," Surti explained. "It helped me stand out from other candidates who reached out to him. After meeting me there, he was more proactive in supporting me because he had 'met' me."
Each session of the five sessions was slightly different, but generally offered career support and networking sessions, as well as break out meetings and presentations of regional issues. Celine Vieker, President of the IE Club for the DACH region applauded the formula.
"I received a lot of positive feedback for the DACH networking event. The mix of information sessions, panel discussions and break-out sessions were well received by all participants," Vieker, who is a Controlling Strategist at Bayer, said. "The friendliness and the fact that all alumni and organizers were so open to stay in contact with the participants after the event was also mentioned as very positive."
IE Business School has ramped up efforts in the past year to address the professional needs of students and alumni in an increasingly uncertain job market.
The North American office has seven events scheduled for the coming weeks. Up next is the IE Alumni Canada Newcomer Inclusion Panel-- which will address the challenges of finding your way in a new country and discuss the "hidden job market." That will be followed by Talent Across Borders, an interactive panel discussion on global talent acquisition and development, featuring executive recruiters and search consultants.
"The world is continuously changing and IE students are not afraid to keep reinventing themselves, This makes them avid problem solvers who see opportunity everywhere," said Sheena Mehta, Director of IE's London office. "We want to make sure that our global community stay in the know on recent trends, share their findings with each other and that local firms know how prepared they are to transform, innovate and disrupt their industries, with a purpose to serve for a greater good."