When the curtain lifts on the 15th LGBT+@Work conference July 5th, it marks a milestone for the annual conference run by the IE Out and Allies Club and the longest-running LGBT+ business school conference in Europe.
It also testifies to the two-day symposium's growth and IE Business School's commitment to the LGBT+ community.
"Education institutions are the birthplace of some of the greatest movements and changes in the world, and it's so good to see LGBT+@Work celebrate its 15th year in advocating for equality," said Global Chief Growth Officer at VIRTUE Worldwide Suresh Raj, who spoke at last year's conference. "When organizations and movements like these are committed to addressing equality, and actively push to make change happen, societies and communities become a better place to live in."
Two years ago, the event that prompts LGBT+ leadership in business by creating a platform of engagement between IE talent and major companies reached a new high. More than 330 attendees listened to 11 speakers from 10 nationalities, sharing their stories of inclusiveness and diversity in the workplace.
Then—the worldwide pandemic hit, but this did not stop the growth of this movement. The ambitious organizing committee moved the entire conference online and grew the audience to almost 2000 person global event.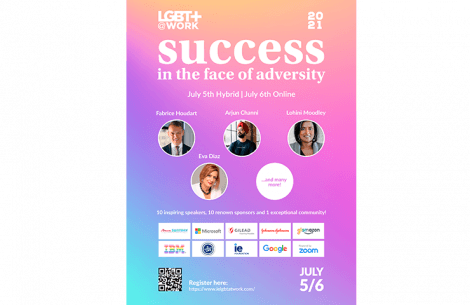 This year, the third-largest business school LGBT+ event in the world opens with the theme "Success in the Face of Adversity" and organizers expect 190 in-person guests, plus an additional 2000 online attendees.
"The reality is that the way individuals experience adversity can only be understood by applying various lenses, the LGBT+ experience isn't a monolith," explained 2021 event organizer and LGBT+@Work Vice President Carissa Thomas, who chairs the Speakers Committee. "Even looking at the impact of Covid-19 this past year, everyone was impacted differently. We wanted this year's theme to showcase individuals and their triumphs instead of a more corporate perspective."
The hybrid edition boasts 10 speakers from Madrid and around the world, including: Allyn Shaw, La-Chun Lindsay, Ron A., Diego Lazaro, Ramiro Sanchez, Lohini Moodley, Rodrigo Diaz, Fabrice Houdart, Eva Diaz, and Arjun Channi.
Thomas said IE Out and Allies would have had numerous social and networking events during the course of the year, but Covid restrictions limited the ability to connect. That's why she said the LGBT+@Work conference marks a fresh start.
"I am so excited to attend Circulo de Bellas Artes with the IE faculty, sponsors, speakers, students and my fellow IE Out and Allies team to celebrate the community for pride month."
Carissa Thomas, the club's vice president
This year's event also counts on the support of sponsors like corporate heavyweights Johnson & Johnson, Beam, Suntory, Gilead, Microsoft, and IBM, as well as IE Campus Life and the IE Foundation.
"Engaging the business world on LGBTQ+ issues is critical, both because there is persistent discriminations in the workplace in Europe, but also because businesses now play a key role in advancing LGBTQ+ rights globally outside of the company's walls," said one of this year's speakers Houdart, Managing Director of Out Leadership and former human rights officer at the UN in New York.
Last year's speaker Jay Lin, Founder & CEO of Portico Media & GagaOOLala, also highlighted how crucial it is to address issues at work.
"The continuous discussion on inclusion and equality in the workplace is crucial as most of us spend more time during our professional career with colleagues than with our friends and family members," Lin said.
For Houdart, the conversation LGBT+@Work elicits is crucial, but it also evolves and addresses nuanced and structural issues.
"What I love about LGBT+@Work's fifteen years run is that the bar for equality always got higher," Houdart said. "At first we speak about protection from harassment and discrimination, but now we are talking about representation in the executive committee and boardroom—which is abysmal in Europe."
Stefan Ritter agrees and goes a step further.
"I think LGBT+@Work has created a platform to move beyond basic diversity towards true inclusion and ultimately a sense of belonging at work," Ritter said.
"IE Business School's commitment to the LGBTQ community has given me idols in business to look up to and whose example I now follow. It helped me grow as a leader and stand up for an open and inclusive work environment."
Stefan Ritter
Eddie Carrillo, who planned last year's event, said he is looking forward to enjoying the conference as a guest this year – without the pressure that comes from being an organizer.
The 2020 edition's message was that diversity at a corporate level is not just a nice-to-have perk, but a real game-changer for building high performing businesses. "It taught me that sometimes things going wrong might actually open up brand new doors and turn out better than you had ever hoped," Carrillo said.
That's exactly what this year's organizers want to show this year.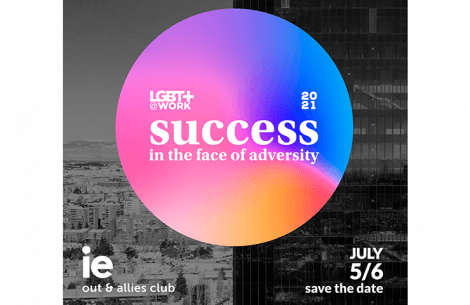 "I hope that the 15th edition will be remembered for being the year that provided a silver lining to the community," Thomas said. "I hope it provides an opportunity for connections and interactions that people have been missing and the chance to reflect on how we can lift each other up in the future despite the challenges ahead."
For Raj, experiencing the event is both inspirational and humbling.
"Inspirational because it was empowering to be with so many like-minded individuals pushing towards a common goal, humbling because seeing the cross we bear being taken up by a whole new generation helps you realize you're not in this fight alone. That is the legacy of LGBT+@Work. And long may that legacy continue."