Landon Konzen grew up surfing along the sunny beaches of San Diego, California. He has always been a deep thinker, perhaps caused by the hours of solitude spent enjoying the beauty of the Pacific Ocean. Or maybe it's because of his long-held love for books, which he fondly calls his "alma mater." Landon has always appreciated a good library—he'll often spend hours there lost in the pages of his favorite poetry books.
Whatever the case, Landon was determined to turn his philosophical mind and natural curiosity into a meaningful career. But he recognized that, in order to find his niche, he had to see the world for himself; he had to study abroad. This decision led Landon to IE University, where he is currently in the last year of his Bachelor in Behavior & Social Sciences.
In 2019, he arrived in Madrid with a mission to understand human behavior. Landon wanted to figure out what inspires and sustains community action toward development. His long-term goal is to be on the frontline of social progress, blending knowledge of policy and expertise in behavioral analytics to foster sustainable development at the grassroots level. It's a big dream, but Landon is sure that studying a program that he describes as "a mix of psychology, sociology, anthropology and economics, all focused on human behavior" will equip him with the tools he needs to reach his target.
Landon feels that IE University has brought the whole world within reach. His sense of adventure has translated into an enriching university experience; one where he could dive into any topic or interest that piqued his attention. "For anything that I wanted to explore, there was a club, a professor—someone involved with IE University that has worked in the field," he says.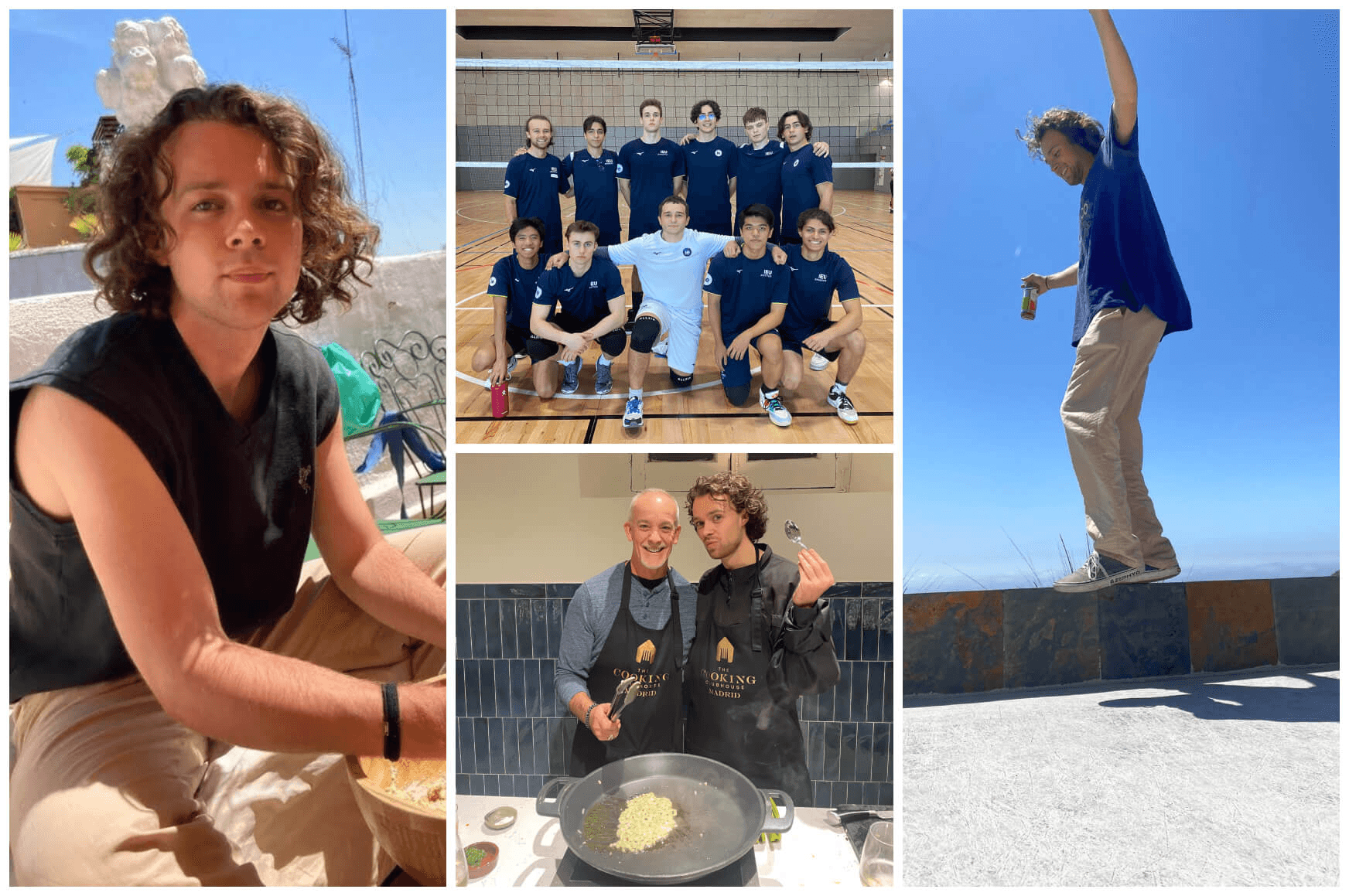 He took advantage of this enabling environment to expand the IE SDG Club, working his way up to become the club's president. Since he started serving in this capacity a year and a half ago, Landon has steered the organization to connect more with local communities on various environmental, social and governance issues. The IE SDG Club has accomplished this—and managed to raise greater awareness of all 17 Sustainable Development Goals, too—through various volunteering projects conducted around the city.
Apart from generating positive impact, these projects also gave Landon the chance to explore Madrid more fully. He's already discovered new winding streets and scenic routes to cultivate his passion for skateboarding. He's also branching out in his free time, reading poetry and rediscovering his love for writing and the spoken word. Landon feeds his mind with words in all forms; after all, "To read is to write is to speak," he notes.
Landon understands why he's studying behavioral and social science: to learn about different people, hear their stories and uncover what makes them unique. In the long run, he hopes to harness this thirst for knowledge, as well as his insights into human behavior, to launch a successful documentary filmmaking career that will shift the tide of public awareness on a range of global issues—particularly the climate crisis. He's already making moves toward this vision: Landon is currently working on his capstone project, which he plans to use as the basis of a documentary project he wants to release next year.
Keep up with Landon's progress on LinkedIn.