Bachelor in Architectural Studies
Make meaningful environments
Bachelor in Architectural Studies
Is for individuals who are…
able to see possibilities where others can't. It's for people who approach problems from a number of angles, taking special interest in interpreting space and understanding the significance of scale.
Looking for…
a program that reinvents architectural education. For those who want to stimulate their creativity, work with the latest technologies, and address the challenges of sustainability. A program that gives students an entrepreneurial mindset and the skills needed to be leaders in the transformation of the built environment.
To become...
the head of their own firm
a sustainability expert
an urban design specialist
part of a major architecture or engineering studio
The Bachelor in Architectural Studies prepares students to transform the world and to make meaningful environments. With a project-based approach to learning and a diverse body of faculty and students, the program synthesizes creative, technical, environmental, and social considerations, and is driven by a forward-looking and entrepreneurial spirit. We teach our students to master the essential tools and skills of the architect, while simultaneously encouraging them to think broadly and creatively about how these tools and skills might be used in the future.

Thanks to IE School of Architecture and Design's international recognition, this bachelor's degree has an exclusive internship program that will allow you to gain invaluable work experience in some of the most prestigious studios worldwide.

This program provides access to the one-year Master in Architecture, which is required in order to achieve professional licensure in Spain and the European Union.

The Bachelor in Architectural Studies is fully compliant with the Bologna Process, and is accredited by the Spanish government and the European Higher Education Area (EHEA).
Liquid Learning at IE University
In this new reality, we understand it's not always possible to attend class in person. That's why we developed our Liquid Learning approach, which seamlessly adapts to individual needs and provides equal access to world-class education—whether on campus or online wherever you are.
Discover more
LOCATION
If you choose to study the Bachelor in Architectural Studies, you will study the five years in Segovia
ARCHITECTURE PROGRAMS

YOUTH INCORPORATED, GLOBAL UNIVERSITY RANKINGS 2021
Program Overview
Why study the Bachelor in Architectural Studies at IE University?
Education with breadth and depth

Our Bachelor of Architectural studies combines the core architectural coursework with additional modules dedicated to design entrepreneurship, experimentation, management, and alternative modes of professional practice. This rich combination of experiences will prepare you to respond to the complex challenges of the future, and to set your own professional path.

An environment of creativity

Students learn through immersion in a vibrant studio setting that encourages creativity and dynamic learning. In the Design Studio, students use the idea-sparking environment to exchange ideas, collaborate, take risks and innovate.

Backed by the IE School of Architecture and Design

Design, innovation and entrepreneurial spirit are at the heart of the School. Take a creative approach to to your education among a professional community of like-minded visionaries. Solve challenges with a critical eye and cross the boundaries of traditional thinking, opening yourself up to a world of design potential.

International guest speakers

Every year, the IE School of Architecture and Design gives host to outstanding industry experts and cross-field pioneers. Get a fresh look at new ideas with boundary-breaking design approaches that tackle contemporary architectural challenges.

A global perspective

See the world through global eyes. The Bachelor in Architectural Studies is one of the world's most international programs, with rich course content and visionary learning methodologies. You'll get the chance to explore international perspectives in study abroad programs or through international internship opportunities.

PROGRAM RECOGNITION
TAKING YOU TO THE CUTTING EDGE OF ARCHITECTURAL TRENDS
The contemporary architect needs a full visual and verbal communication skill-set. Define strategies, organize projects, lead teams and share your vision on a creative, design-led program. Become an architect for the modern world, ready to innovate and create in every environment.
IN COLLABORATION WITH TOP STUDIOS WORLDWIDE
A core function of the program is to combine classroom learning with real-world work experience. Learn and interact from top studio professionals on their turf during the second semesters of year 2, 3 and 4. With a host of world-wide destinations including magazines, museums, NGOs as well as architecture and design firms, students are sure to find an experience to help them achieve their career goals.
IDEAL ENVIRONMENTS TO COLLABORATE AND EXPERIMENT
The right space spurs the imagination. Our open Design Studios create an innovative learning environment, replicating that of a firm or agency. Our "culture of making" is further emphasised through the "Fab Lab", a space for students to experiment with digital and traditional woodworking tools to fuel practical constructional understanding. The Fab Lab is divided into two: the digital part with a CNC router, laser cutters and 3D printers, and the other with traditional, hands-on carpentry tools.
A COMBINATION OF IN-DEPTH ARCHITECTURAL FUNDAMENTALS WITH A WIDER REACH
A firm understanding of the fundamentals and the application of architecture to society are key to life as an architect. This knowledge, combined with a design approach, an entrepreneurial mindset, and advanced management and communication skills will make you stand out as a versatile architect, capable of creating innovative environments and spaces.

IE School of Architecture and Design is the first Spanish academic institution to be accredited by Singapore, a country renowned for its innovative and vibrant approach to architecture. With this accreditation, our graduates will be able to work with the same footing as graduates from the two Singaporean schools of architecture and expand their global employment opportunities.
THE FAB LAB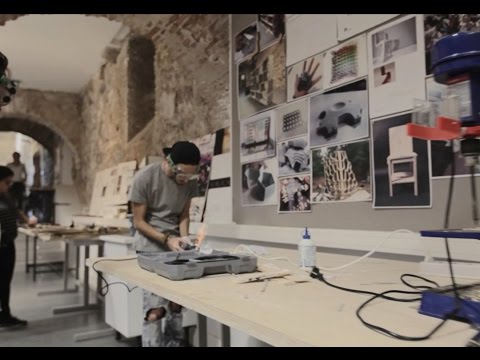 The Fabrication Laboratory or "Fab Lab" is an important part of our "culture of making." It is a space for students to experiment with digital and traditional shop tools to fuel practical constructional understanding. The Fab Lab is divided into two: the digital part with a CNC router, laser cutters and 3D printers, and the other with traditional, hands-on carpentry tools.
This gives you the chance to put your work together in a computerized format, allowing you to make any necessary alterations to your design while also providing you with a platform to incorporate this function into other creations.
Explore the Fab Lab
IE School of Architecture & Design
IE School of Architecture & Design places emphasis on excellence in design, innovation, and entrepreneurship. Our students are encouraged to take a creative approach to architecture, learn the latest digital skills in a contemporary context, and develop talents to become leaders in a changing field. IE School of Architecture & Design is part of a broader university, which supports learning across disciplines, especially the humanities and business.
There is a wide variety of programs on offer in the School of Architecture and Design. The five-year Bachelor in Architectural Studies degree qualifies participants to be fully professional architects, while our masters and specialized programs allow students to further their career development. All degrees place emphasis on direct and continuous contact with leading international professionals in architecture and design, providing our students with the experience they need to make their mark in the industry.

Learn more
IE School of Architecture and Design understands the importance of collaboration on our community. Recognizing and appreciating diverse, international outlooks through global partnerships as well as study and work abroad programs enhances the overall academic experience.
Learn more
Master in Architecture
This one-year Master program takes a step forward into advanced design and the management skills needed to succeed in the Architecture, Engineering and Construction industry today. It is an advanced program that builds on students' previous knowledge of theoretical and practical principles.
The program involves rigorous research and project-based work, and you are constantly encouraged to develop and apply an entrepreneurial spirit. Throughout the year you will work on a thesis project comprised of 3 modules, and will also take part in an advanced design studio and a construction workshop. The Master in Architecture will enable you to enhance your creativity and organization skills, your strategic vision and also help you develop and demonstrate your project management skills in an advanced level.
Upon completion of the Master, you will be fully equipped with the skills and expertise needed to work as a versatile and fully-rounded architect and design entrepreneur. This is necessary to access the regulated profession of architecture in the European Union.
To commence this Master program you will need at least 300 credits in Architectural Studies.
Design in the age of technology
How will the increasing pace of technological change impact tomorrow's architects and designers?
How robots are rewriting the rules?
Before designers and architects pour forth their visions for a better world, first they need to know what technologies are reshaping our future.
Is technology a solution or a tool?
For many, technology is the solution to any challenge. As software becomes increasingly complex, it is able to manage and model new shapes, sizes and structures of buildings.
Download the Ebook
OUR FACULTY STORIES
Coming from diverse, global backgrounds, they each bring distinct perspectives and innovative ideas that embody what makes IE University stand out. Their stories are personal and unique—but don't take our word for it. Read their stories to see for yourself.
More Faculty Stories
Discover more about the program