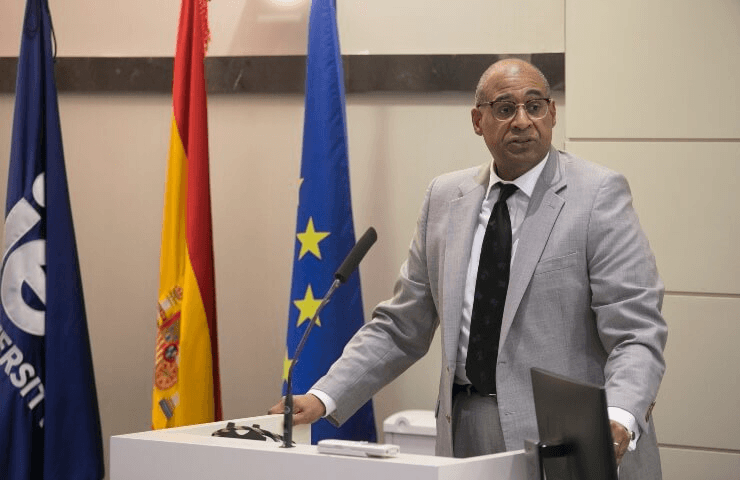 IE University has presented the José Mario Álvarez de Novales Chair, which will promote research in entrepreneurship, one of the institution's strategic values. This chair, which will be directed by Professor Julio de Castro, recognizes the legacy of Álvarez de Novales to the institution, his innovative capacity and his advocacy for online education more than 20 years ago. His strategic vision consolidated the institution as a pioneer in Europe in hybrid education and in the design of online masters, recognized among the best in the world by international rankings. The José Mario Álvarez de Novales Chair was presented at a ceremony held at IE University's Aula Magna Valentín Díez-Morodo, which was attended by the institution's top academic authorities, as well as relatives of Professor Álvarez de Novales.
Julio de Castro will promote research in the area of entrepreneurship with a primary focus on knowledge generation and social impact. "For me it is an honor to lead this new Chair that recognizes the talent of José Mario Álvarez de Novales, a person of the utmost worth, charisma and vision for the future," said Julio de Castro.
"This Chair will allow me to deepen my research on entrepreneurial management, promote new research projects and delve into the keys and impact of entrepreneurship."
Julio de Castro
Salvador Carmona, Rector of IE University, highlighted the legacy that Professor José Mario Álvarez de Novales bequeathed the academic institution, his commitment to online training and educational innovation. "Álvarez de Novales was an inspiring professor in the area of Strategic Management, an innovative researcher and manager who played a fundamental role in the growth of the institution," said Carmona, highlighting the extensive teaching experience of Professor Julio de Castro, an expert in Entrepreneurial Management, researcher and Director of the Doctoral Program at IE University.