Pablo Isla, the former CEO of Spain's Inditex fashion group, chaired the annual meeting of IE University's International Advisory Board held at IE Tower, the academic institution's new technological and sustainable headquarters in Madrid.
IE University's International Advisory Board is made up of figures from the institutional, academic and business worlds, with experience in the public and private sectors, who advise on the university's strategic lines of action. Their mission is to support IE University's senior management in fulfilling the institution's purpose: to drive positive change through education, research and innovation.
"It has been a privilege for me to chair for the first time the meeting of the Board, composed of leading international personalities who have demonstrated extraordinary performance throughout their careers. Their multidisciplinary vision and experience in positions of the highest responsibility undoubtedly make them a key asset for IE University."
Pablo Isla, Chairman of IE University's International Board of Trustees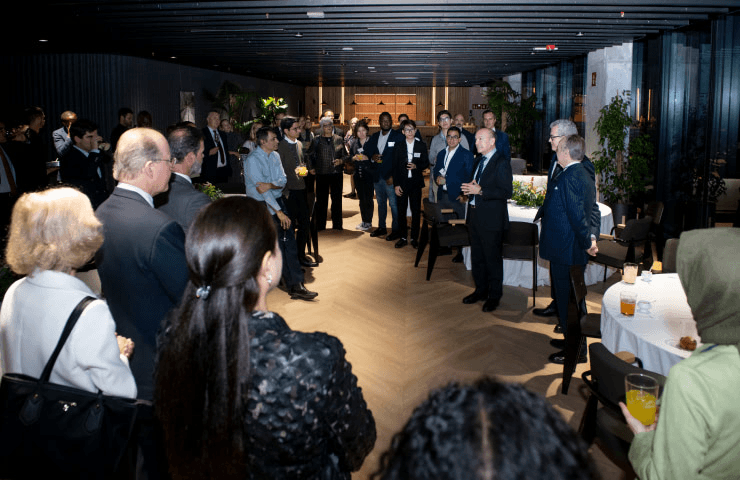 The International Advisory Board met with the university's management team to learn about the institution's upcoming projects and the strategic vision of IE University's Schools: IE Business School, IE School of Science and Technology, IE School of Global and Public Affairs, IE Law School and IE School of Architecture and Design, as well as IE Lifelong Learning. They also talked to students distinguished as IE University Fellows, extraordinarily talented young people who have the support of the IE Foundation to pursue their studies at the institution.
Pablo Isla, who served as Chairman and CEO of the Inditex Group from 2011 until March this year, has been Chairman of IE University's International Board of Trustees since April. In 2017 and 2018, Harvard Business Review named Mr. Isla Best Executive Chairman in the world; while in 2020 Forbes designated him Best CEO of the Decade.


IE University's International Advisory Board is composed of:
Ismail Ahmed, CEO, Gulf Medical (Canada).
Antonio Amorim, Chairman and CEO, Corticeira Amorim (Portugal)
Kofi Appenteng, President, Africa-America Institute (Ghana)
Emilio Azcárraga, Chairman of the Administration Board, Televisa Group (Mexico)
Carolina Barco, former Colombian Minister of Foreign Affairs (Colombia/United States)
Hubertus von Baumbach, Chairman of the Board of Managing Directors and Chief Executive Officer, Boehringer Ingelheim (Germany)
Miriem Bensalah Chaqroun, Vice President and CEO, Les Eaux Minérales d'Oulmes (Morocco)
Noor bint Asem, Chairwoman and Founder, Kyan Foundation (Jordan)
Michelle Caruso-Cabrera, CEO, MCC Productions (United States)
Valentín Diez Morodo, President, Mexican Institute for Competitiveness (Mexico/Spain)
Juan Ignacio Entrecanales, Executive Vice President, Acciona (Spain)
Georg von Habsburg, Hungarian Ambassador to France (Hungary)
Carl H. Hahn, Chairman Emeritus of the Management Board, Volkswagen (Austria)
Eduardo Hochschild, Chairman, Hochschild Group (Peru)
Fady Jameel, Deputy President and Vice Chairman, Abdul Latif Jameel (Saudi Arabia)
Julie Katzman, Director, Advisor and Investor, MacArthur Foundation, Nilus LLC, IVE and Laboratoria (United States)
Angelica Kohlmann, Chairman and CEO, Kohlmann & Co (Brazil/Germany)
Wei Lin Kwee, Senior Vice President, Hotels at Pontiac Land Group (Singapore)
Maria Tereza Leme Fleury, Director, Getulio Vargas Foundation (Brazil)
Uni Zulfiani Lubi, Editor in Chief, IDN Times (Indonesia)
Pascale Mussard, Founder and Former Director, Petit H. Vice President, Hermés Foundation (France)
Usha Prashar, Member of the House of Lords (Kenya)
Ariane de Rothschild, Chairwoman of the Board, Edmond de Rothschild Group (France)
Martha Thorne, Senior Advisor, Henrik F Obel Foundation (United States)
Giuseppe Tringali, President, IE/EY Global Corporation Center (Italy)
Martin Varsavsky, CEO, Overture Life and Goggo Network, Founder and Chairman, Prelude Fertility (Argentina/Spain)
Dimitri Vassilacos, Partner, Ship Finance Solutions (Greece)
Zhihong Yi, Academic Director of FinTech MBA, Renmin University (China)