Professor Kim originally planned to be a journalist, but shortly before she completed her undergraduate in communication at Seoul National University, she changed her mind and decided to go into marketing. This was not going to be the last time such a change featured in her life. Her entrepreneurial spirit and adventurousness has been a constant, though—she set up a dating site she describes as "YouTube-like" while studying for her MBA while still at the same university, and acted as CEO. The fact that this venture didn't work out hardly discouraged her. Quite the opposite, in fact.
It was indeed into marketing that her early career took her, working in market research for both ACNeilson and Korea Telecom. Though her time at each was not extensive, the experience of two different organizations was invaluable. She saw the completely different strengths, ambitions, and inclinations of the great variety of people she worked with, and began to contemplate what true leadership should be like. She is, she says, still looking for the definitive answer to that question.
More changes, then home at last
Then came another change. A move to Britain for a PhD in marketing at the London Business School was the start of the academic career path she has walked since then. After graduating, she says she wanted a job in an international environment, where she'd meet people from a variety of backgrounds. She found exactly that at IE University's Segovia campus, and nine years later, she's still here. The "cozy" campus provides the perfect work-life balance and the other "family" she says have always been big life goals for her.
Professor Kim's teaching reflects her humanistic interests. She has a keen eye for the social aspect of the business transaction, particularly how human relationships work in a business setting—she considers, for example, how people react if they find out they're chatting to a bot, not a person. Or whether investors buy more funds when they feel they're with the mass or moving away from it. Such issues are the focus of her current research.
She asserts that every year the students provide new stimulus for her, arriving full of ideas and ambition and gearing up to face an ever-changing world that requires "… an unusual amount of resilience and adaptability." Her role as a professor in marketing has taught her, she suggests, that the only way to excel in anything is to learn and adapt constantly. She looks to give students the tools to do just that, using real marketing field data and empowering them with the ability to communicate that data visually and eloquently. In the age of big data, this is a hugely important skill.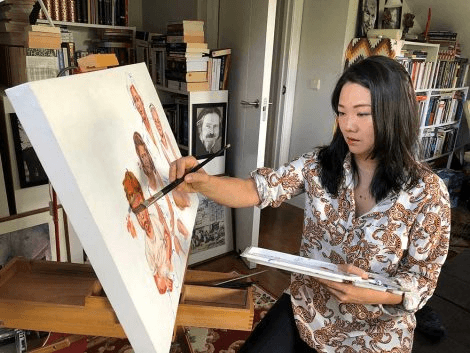 Outside the classroom
Being a mother to two boys has left her with little time to indulge her hobby of painting in acrylics, she says. But, when she has the chance, she enjoys writing—working on novels she says are unrelated to her profession. She hopes, one day, to have them published.
Given her drive, adaptability and positivity, it seems likely she'll achieve this aim. Asked what advice she'd give to any Bachelor in Business Administration student, she concludes by offering the same advice she says she'd give to anyone taking any major. Experience as much as possible, and do not be afraid to go with your gut if it feels like a change is necessary. As with her experience with her online dating site, failure can be a good way to find the right path.